Discover more from PRESS RUN
Fearless media commentary
Over 56,000 subscribers
Thank you always for your support. Please considering subscribing to PRESS RUN for just $6 a month. These are extraordinary times and they deserve a proudly progressive voice holding the press accountable.
Ultimately, this newsletter is only possible because of the support of readers like you who are backing a new kind of journalism that's independent.
Stay healthy.
Be kind.
---
It seems Democrat Joe Biden is proving to be an "elusive" target for Republicans.  Campaign reporters note how Trump has been unable to land many punches against his Democratic rival this year. Journalists are scratching their heads wondering why Biden's opponent isn't able to rough him up, the way he did Hillary Clinton on 2016. But journalists are looking right past the answer — misogyny.
The Washington Post this week reported Trump, "has not yet found a line of attack that has resonated with voters." The New York Times stressed that going into the campaign Trump, "believed he could recreate his race against Hillary Clinton by caricaturing Mr. Biden as a version of her — a fixture of the so-called "swamp" whose purported corruption would turn off voters," but that it's not working. "Despite Mr. Trump's prodding, the [Tulsa rally] crowd couldn't work up the bloodlust for his opponent that his throngs reliably did (and still do) for Hillary Clinton."
The Times claims the pandemic and weeks of Black Lives Matter street protests have thwarted Trump's attempt to turn Biden into a "swamp" creature like Clinton. But that ignores the pivotal role gender plays in American politics. And it ignores the fact that sexist campaign coverage was a key reason Trump was elected president. News outlets don't want to dwell on those uncomfortable topics, or dwell on their role in securing Trump's win, so journalists scratch their heads and wonder why the Trump jabs aren't landing like they did four years ago.
This phenomena also played out during the Democratic primary, when the attacks that proved so effective against Clinton back in 2016 failed the move the needle in 2020. In both the primary and now in the general election, Biden's political opponents incorrectly assumed that the playbook used successfully against Clinton could be easily replicated against Biden. His opponents failed to acknowledge that misogyny was a driving force in 2016. Without that element in play this year, Biden's opponents have scrambled to connect.
It was sexist, double-standard coverage that drove big, damaging Clinton stories during the campaign, including her use of a private email server (which lots of men do), giving paid speeches (which lots of men do), and running a charitable foundation (which lots of men do).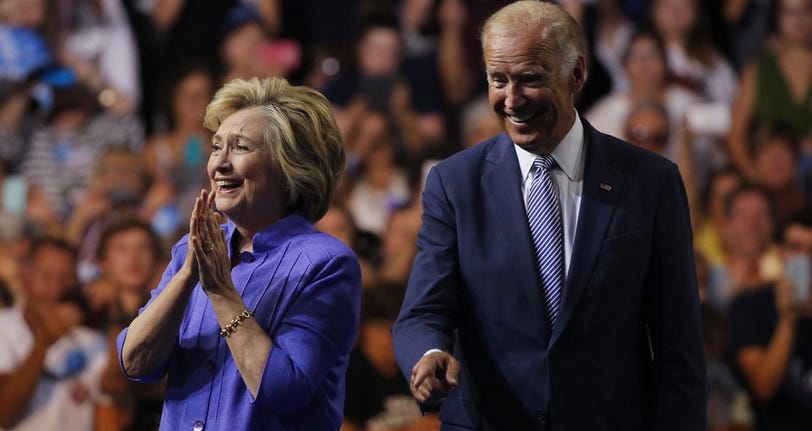 Let's state the obvious: It's a good thing the attacks aren't weighing down Biden, mostly because they're bogus, starting with the GOP's Ukraine fiasco, which got Trump impeached. Democrats should be relieved that so far this campaign the party's message has not been hijacked by the press the way it was in 2016, when so much of the Clinton news coverage and commentary read and sounded like it was dictated by the RNC. That, combined with the D.C. media's open disdain for Clinton, meant a campaign coverage that dripped with contempt.
Was sexism the only reason Clinton lost? It was not. She has admitted key campaign missteps. It's true that Clinton has been a very public target for the conservative movement for nearly 30 years. Two points: First, Biden has been in public life for longer than Clinton, so why hasn't he been saddled with same level of toxic, "swamp" attacks? Second, when Clinton served as secretary of state under President Barack Obama she enjoyed extraordinarily high public approval ratings. It wasn't until she became a candidate and the D.C. press teamed up with GOP attack machine (see: Clinton Cash) that the public perception of her drastically changed, as she was portrayed as a conniving, unlikable, power hungry pol.
And it all stuck to the first woman nominee in U.S. history. Four years ago in June 2016, Clinton posted a net -22 negative rating in a NBC/Wall Street Journal poll. In that most recent survey, Biden negative approval was a net -1 point negative rating. (Trump stands at -11).
Just in case folks forgot what the glaring double standard looked like four years ago, from a piece I did for Media Matters, following a Democratic primary debate in 2016:
"She shouts," complained Washington Post editor Bob Woodward last week on MSNBC, deducting points for Clinton's speaking style. "There is something unrelaxed about the way she is communicating, and I think that just jumps off the television screen." "Has nobody told her that the microphone works?" quipped Morning Joe co-host Joe Scarborough, who led a lengthy discussion about Clinton's voice (the "tone issue"). Scarborough and his guests dissected Clinton's "screaming," and how she is supposedly being "feisty" and acting "not natural"… The New York Times' debate coverage pushed the same "angry" narrative, detailing "The ferocity of Mrs. Clinton's remarks," and how she appeared "tense and even angry at times," "particularly sensitive," and was "going on the offensive." (By contrast, her opponent "largely kept his cool.")
The 2008 campaign was arguably worse. As Dr. Dianne Bystrom, director of the Carrie Chapman Catt Center for Women and Politics at Iowa State University reported, "Clinton was "was referred to as a "white bitch" on MSNBC and CNN; a blood-sucking "vampire" on Fox; the "wicked witch of the west" on CNN; and "everyone's first wife standing outside of probate court," a "she devil" and the castrating Lorena Bobbitt, all on MSNBC."
Today, Joe Biden doesn't have to deal with that of any of that sexist nonsense. For Democrats, that's a good thing. But let's not ignore what's happening and turn a blind eye to the power of misogyny in American politics.
---
🚓 GOOD STUFF:
Last week I wrote about the phantom news story about how three NYPD officers were allegedly "poisoned" intentionally by Shake Shack workers in Lower Manhattan, against the backdrop of the nationwide protests against police brutality. Fueled by wild allegations by local police unions, the story quickly ricocheted across the media landscape as a disturbing tale of anti-police vigilantes. Within twelve hours the story of a "poisoning" was debunked by the NYPD, but not after the press played a helpful role boosting the pro-police propaganda.
It turns out the story is even more hollow than first believed. According to a report in the New York Post on Monday (an historically pro-NYPD outlet), the three officers at the center of the controversy were never sick, and they never suffered any symptoms of a poisoning. "There wasn't the slightest whiff of criminality from the get-go — but that didn't stop gung-ho brass from rolling out the crime scene tape and unions from dishing out empty conspiracy theories," the Post reported.
🎸 FUN STUFF — BECAUSE WE ALL NEED A BREAK
The Highwomen, "The Chain"
One of my favorite musical events of last year was the creation of The Highwomen, a Nashville super group of sorts, featuring Brandi Carlile, Natalie Hemby, Maren Morris, and Amanda Shires. The group's formation came at a time when women singers were increasingly being kept off of country radio playlists, and therefore denied a wide FM following. The Highwomen sent a defiant signal that those voices will not be ignored.
Here, the group covers Fleetwood Mac's haunting classic, "The Chain." It's a nearly note-for-note rendition, but "The Chain" has only gotten better over time and the Highwomen's sterling, wall-of-vocals version adds to the rich history.
And if you don't love me now
You will never love me again
I can still hear you saying
You would never break the chain (Never break the chain)