Discover more from PRESS RUN
Fearless media commentary
Over 56,000 subscribers
Shake Shack, "poisoned" cops, and how the press falls for police propaganda
Break the dependence on police information
Thank you always for your support. If you haven't yet, please considering subscribing to PRESS RUN for just $6 a month. These are extraordinary times and they deserve a proudly progressive voice holding the press accountable.
Ultimately, this newsletter is only possible because of the support of readers like you who are backing a new kind of journalism that's independent.
Stay healthy.
Be kind.
---
Black Lives Matter protests are forcing Americans to re-examine their views on racial injustice, as well as law enforcement. Among those in need of serious reflection are news organizations and how they so often rely on the word of the police when reporting breaking stories, and how police propaganda gets repackaged as news.
That point was made painfully clear this week when police unions in New York City fabricated a wild claim that anti-police employees at a Shake Shack restaurant had "intentionally poisoned" three officers who ordered milkshakes. Nothing about the scandalous claim turned out to be true. But news consumers didn't learn that until after the police lies had been presented as fact and reverberated nationwide.
The Shake Shack disinformation debacle represented a painful reminder of how journalists, who depend on the getting information from local police departments in order to file crime stories, too often bestow instant legitimacy to law enforcement claims, even when the claims make no sense, as with the irrational "poisoned" story.
That blind faith is one of the dependencies that plays out between the press and law enforcement. "One is the reliance on police sources to fill column inches and on-air minutes in local news (and more recently podcasts and mugshot-filled websites) with crime reporting" Tim Murphy recently noted in Mother Jones. "The "night cops" beat has been a boot-camp assignment for many reporters, and too often it consists of cranking out "if it bleeds, it leads" stories that depend heavily on the accounts of police."
That's what happened Monday night when three NYPD officers were hospitalized after drinking Shake Shack milkshakes in Lower Manhattan.
Minutes before the local, 11 p.m. news telecasts began, the Detectives' Endowment Association in New York claimed the officers had been targets of an attack. "Tonight, three of our fellow officers were intentionally poisoned by one or more workers at the Shake Shack," the union announced on Twitter. "Fortunately, they were not seriously harmed."
The Police Benevolent Association soon followed with a similarly fabricated claim, insisting the officers' drinks had been intentionally spiked with "a toxic substance." The PBA insisted the attack was part of a larger, nefarious anti-police crusade: "When NYC police officers cannot even take a meal without coming under attack, it is clear that [the] environment in which we work has deteriorated to a critical level. We cannot afford to let our guard down for even a moment."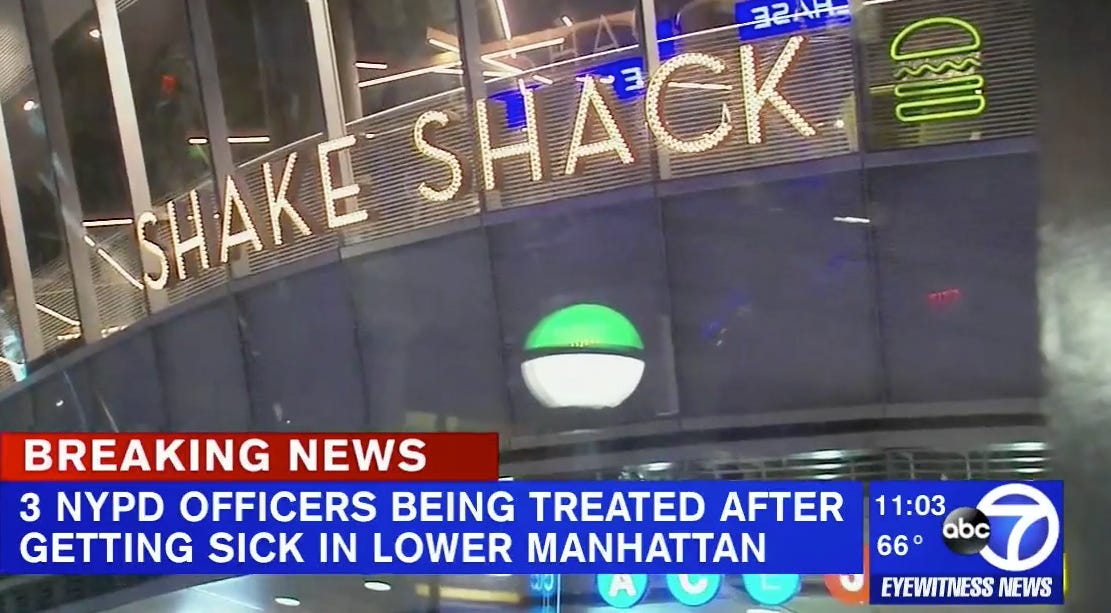 The false story played right into a right-wing fantasy portrayal of police critics and the Black Lives Matter mindset — the idea that activists are plotting ways to poison and kill members of law enforcement. Primed by Fox News and conservative media, which portray peace activists as dangerous radicals, the mainstream media is too quick to buy into the false portrait and to embrace bogus stories that support that characterization.
On Monday night, the media frenzy was on.
When the story first broke, some local New York City news outlets were careful to report that the allegation of an intentional poisoning came from a police association, not from the police department itself. As the sensational story ricocheted, those subtle distinctions evaporated as news outlets around the country rushed to announce as fact that the cops had been poisoned at a Shake Shack.
WFLA-AM, Florida: "Three New York City police officers are recovering after they say they were poisoned on their dinner break Monday evening. They believe someone at a Shake Shack put bleach in their drinks which they didn't discover until they had drank."
WPVI-TV, Philadelphia: "Police in New York say three officers were intentionally poisoned by workers in a restaurant. The officers said they were beginning to feel sick after drinking milk shakes from Shake Shack. The NYPD is investigating."
WJXX-TV, Jacksonville, Florida: "Breaking overnight: Police in New York say three officers were intentionally poisoned by workers at a Shake Shack in Manhattan."
KYFI-AM, Phoenix: "Three New York City police officers say they were poisoned Monday during a meal break at a shake Shack after drinking their beverages."  
Of course, nothing about the story and the delusional police union claims made any sense. The officers who got sick ordered their shakes via a phone app and when they arrived at the local Shack Shake the drinks were waiting for them on the counter. Nobody at the fast food restaurant had any idea the milkshakes were being purchased by cops, which means no employees — and no fictional antifa activists — had an opportunity to "poison" the drinks.
It's true that lots of news outlets ran updates on the fabricated story and reported that the NYPD itself found no evidence of any kind of intentional poisoning, concluding that a cleaning substance may have been left unrinsed inside the milkshake machine. But the initial false story clearly resonated across the country, thanks in part to the fact that Fox News personalities continued to tout it even after the NYPD debunked the story. Gov. Mike Huckabee wanted exonerated Shake Shack employees to be charged with "attempted murder."
On Twitter, one upset Trump supporter from Georgia law enforcement posted a video saying she's too nervous to eat at McDonald's because she's not able to watch workers prepare the food, an apparent reference to the Shake Shack "poisoning."
Police unions in New York City told a brazen lie about a fictitious poisoning and the press helped them spread the lie from coast to coast. As grassroots protests spread, it's time for the media to address their information dependence on the police.
UPDATED: This story is even more incredible as we learn more facts about the "poisoning." According to a new report from the New York Post, the three officers at the center of the controversy were never sick and never even felt any symptoms, yet supervisors demanded they be rushed to the hospital. "There wasn't the slightest whiff of criminality from the get-go — but that didn't stop gung-ho brass from rolling out the crime scene tape and unions from dishing out empty conspiracy theories," the Post reports.
---
GOOD STUFF:
Watch this amazing clip to get a sense on how far and how fast the ridiculous "poisoned" story traveled Monday night, as journalists repeated without question the police unions' bogus claim:
FUN STUFF — BECAUSE WE ALL NEED A BREAK
Lady A, "American Honey"
Nashville super group Lady Antebellum made welcomed headlines when they recently announced they were changing their name by dropping the Civil War-associated "Antebellum" from the moniker, and replacing it with just "A."
"When we set out together almost 14 years ago, we named our band after the Southern 'antebellum' style home where we took our first photos," the band said in their statement. "As musicians, it reminded us of all the music born in the South that influenced us…Southern Rock, Blues, R&B, Gospel and of course Country. But we are regretful and embarrassed to say that we did not take into account the associations that weigh down this word referring to the period of history before the Civil War, which includes slavery."
Good for them.
Here's their iconic ode to small-town life, "American Honey":
Get caught in the race
Of this crazy life
Tryin' to be everything can make you lose your mind
I just wanna go back in time
To American honey, yea