Discover more from PRESS RUN
Fearless media commentary
Over 56,000 subscribers
To protect America, the press needs to unplug Trump's pandemic misinformation
POTUS is actively endangering our health
Thanks to everyone who has signed up for PRESS RUN, the response has been amazing. If you're enjoying the newsletter emailed to your inbox, please help spread the word on Facebook, Twitter, and among friends. (Click "share" button below.) And thanks again for supporting independent voices. Cheers. And stay healthy.
---
As the coronavirus crisis becomes increasingly dire, news organization have to choose between covering the truth, and covering Trump.
Today, every time Trump addresses the novel virus and America's unfolding pandemic, he makes things worse with his steady stream of reckless contradictions, lies, and misinformation. A proud agent of chaos, Trump is the worst possible leader at this moment, as the nation grapples with historic challenges.
On Friday, he held a rambling, incoherent Q & A with reporters at the Centers for Disease Control in Atlanta, where he lied and said anybody who wanted to could get tested for the virus, called Washington's Democratic governor a "snake," and asked a Fox News reporter about the TV ratings for Trump's recent town hall on that network. First thing Monday morning, the Down Jones averages tanked.
Then on Wednesday night, Trump delivered a stupefying address to the nation that was filled with falsehoods and sent global investors scrambling as it became clear, once again, that the United States still does not have a coherent, comprehensive plan to deal with this sweeping public health crisis. Instead of announcing the creation of field hospitals, surge testing for states, or the tapping of medical professionals from the National Guard, Trump announced an arbitrary travel ban from Europe, and garbled the facts in the process.
He's an elected leader who's desperately in over his head, as the policy-free president refuses to take seriously the perilous situation at hand. And with his careless speech Wednesday, Trump simply poured gasoline onto a blazing fire.
But here's the truly pressing part, and the element the news media really has to deal with, even though it's likely too scared to do so: The President of the United States is actively endangering the American public, and at what point does the press decide that dutifully broadcasting Trump's misinformation is not in the nation's best interest. At what point does the press unplug Trump for the good of the country? Or, put more simply, at what point does the press acknowledge there's a madman in the Oval Office and that he's doing real harm to this nation's actual well being during our national health crisis?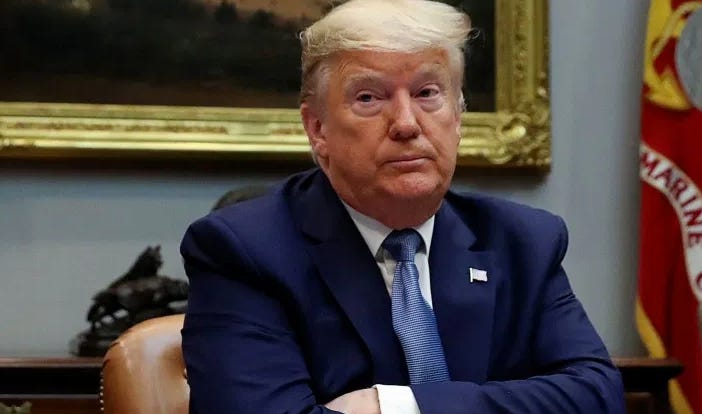 After Vice President Mike Pence appeared on CNN Thursday morning and spread even more confusion, Democratic strategist Eric Schultz noted on Twitter, "This is why I'm not sure networks can credibly claim it's in the public's interest to give airtime to WH officials." And he's right.
The stunning challenge facing the press is how, in the best interest of the nation, can news outlets effectively muzzle, or at least ignore, the President of the United States, whose every utterance seems to make the crisis worse? At what point, do journalists have to decide that it's more important to keep an increasingly panicked nation informed with accurate information, than it is to dutifully type up whatever random misinformation Trump decides to spit out, which almost always contradict the statements of government scientists?
In this regard, Trump has joined forces with the bottom feeders of the right-wing media who are spreading misinformation for profit and for partisan reasons. AM radio's Rush Limbaugh, busy downplaying the virus' threat, recently compared it to the common cold and stressed the current "panic is just not warranted." This, while Fox News' Sean Hannity urged fans to not listen to coronavirus warnings issued by Democrats. The press would never treat that kind of dangerous rhetoric as being newsworthy, so why does the press treat Trump's misinformation that way? And why don't the media have the courage to print and broadcast "Trump Lies About Pandemic" headlines?
This is uncharted territory for the country and the American press, which for centuries has operated under the very simple premise that relaying information from government officials, particularly in a time of crisis, is vital to the fourth estate's role in a functioning democracy. But that premise only works if public officials are trying to solve the crisis, and not making it worse via purposefully untrue propaganda. (i.e. Trump claiming the U.S. would soon have "zero" coronavirus infections.)
Urging the news media to consciously tune out the president is a radical idea, but Trump's a radical president, and the Washington press corps is long past the point where members should have embraced extreme measures to deal with facing a pathological liar in the White House. But they haven't.
Two years ago, I was suggesting reporters stop showing up at White House for press briefings. Was that a radical idea? I suppose it was. But it would've been the right thing to do, instead of hanging around more months in empty briefing rooms until the Q&A sessions were canceled entirely. (It's been a year since the last White House press briefing.)
Today, the radical cure at hand is unplugging Trump.
---
GOOD STUFF:
Writing in the New York Times, longtime Russia chronicler Joshua Yaffa recently wrote a fascinating piece, "The Real Russia Story in American Politics." In it, he examined how so many of Russia's "brightest figures" in politics, culture and religion have compromised themselves to accommodate the state as controlled by Vladir Putin, and done so under the name of being "wily." For years, Yaffa assumed it was a uniquely Russian phenomenon. But now he clearly sees the same dynamic playing out in Trump's GOP:
That is the scary thing about observing wiliness at home: how readily and quickly we bend, not when there is truly no other choice, but when there are plenty of other choices, the wily one being merely the easiest and most expedient.
FUN STUFF — BECAUSE WE ALL NEED A BREAK :
Kesha, "Resentment" (featuring Sturgill Simpson, Brian Wilson & Wrabel)
This is definitely a different sound for Kesha, who rose to pop fame ten years ago with her club, party anthems, like "Tik Tok."  Here, in breakup mode, the sound is stripped down to acoustic guitar and lush vocals, rounded out by a small all-star chorus of friends.