Discover more from PRESS RUN
Fearless media commentary
Over 56,000 subscribers
Thank you always for your support. Please considering subscribing to PRESS RUN for just $6 a month.
Ultimately, this newsletter is only possible because of the support of readers like you who are backing a new kind of independent journalism.
Stay healthy.
Be kind.
---
Often slurring his words and appearing catatonic, Trump appeared in the shadows of Mount Rushmore Friday night and unleashed another disturbing address to the nation. There, he warned of demonic liberal forces in America that were determined to "defame our heroes, erase our values, and indoctrinate our children." The Trump speech sprang from a parallel universe where today's run-away pandemic doesn't exist, and the address pandered to racial divides.
Covering the troubling event, CNN labeled the address as "impassioned," the Associated Press reported Trump was merely "offering a discordant tone," and at least one major newspaper's front page portrayed the event as "patriotic." 
Across the media landscape Trump's bizarre, unsettling address was whitewashed and described as being "fiery":
•"Trump seeks to claim the mantle of history in fiery Mount Rushmore address" (Politico)
•"President Donald Trump delivered a fiery speech at Mount Rushmore" (US News & World Report)
•"Trump blasts 'left-wing cultural revolution' in fiery Mount Rushmore speech" (New York Post)
•"Trump 'Salute to America' Features Fireworks, Fiery Speech" (Voice of America)
Not only was "fiery" a woefully inadequate way to describe Trump's foray into authoritarianism, it wasn't even accurate — Trump's low-energy address was relentlessly listless and generated very little enthusiasm from the small crowd of followers that gathered in South Dakota to hear him speak.
There comes a point — and we're way past it — when reporters covering Trump should be honest with what they're witnessing. It shouldn't be left to "opinion" writers to note that Trump speeches aren't merely "divisive" as the New York Times reported on Friday. The speech was undemocratic as Trump demonized civil protesters, and dangerous as he portrayed them as lurking enemies of the state.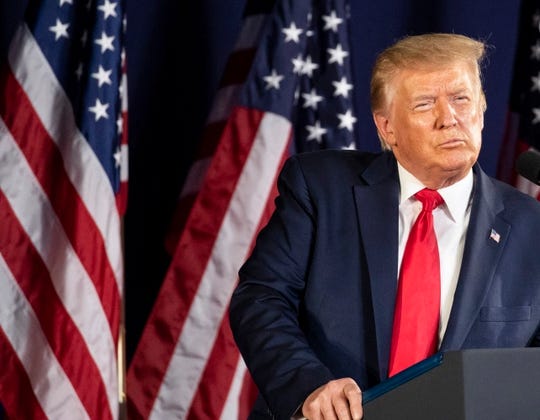 This kind of chronic whitewashing has come to define political journalism in the Trump era. As he becomes increasingly desperate while his polling numbers fall, Trump's loud cries for armed confrontation may become more acute, and it's the job of journalists to describe exactly what's happening, and not hide behind polite euphemisms.
We've seen this media normalizing over and over. Last year, when Finnish President Sauli Niinistö visited the Oval Office, Trump met with reporters and uncorked rambling, angry, whiny monologues that were filled with lies and rattled conspiracy theories. That's when he wasn't yelling at a Reuters reporter and threatening to sue members of Congress. If it had been an isolated event, the disturbing Alex Jones-style performance would have been considered the most bizarre of its kind ever delivered inside the White House by a sitting American president.
But that's the new normal and his meltdown showcased an unstable man who is not attached to reality, and has no interest trying to be. The spectacle, as the Finnish president looked on, featured an American leader who had trouble articulating rational thoughts and who lied at an astonishing rate. But how did the Beltway press cover the shocking event?
Much of the Beltway press whitewashed it, making it seem as if Trump had merely been contentious and aggressive. The Washington Post depicted the entire debacle as a "fiery," "combative" event (a "roller coaster"), and the Wall Street Journal stressed Trump's "free wheeling style." For news consumers, "stormy," "fiery" and "free wheeling" don't sound like reason for concern. Those descriptors represent acceptable behavior by mainstream politicians and don't hint that Trump might be a sociopath who uncorked epic, shocking meltdowns in plain view that week.
The Times described Trump's manic behavior this way: "President Trump used two events at the White House with the president of Finland on Wednesday to challenge Democrats as they pressed ahead with their investigation into whether Mr. Trump had abused the power of his office in seeking political dirt from Ukraine." That sounds pedestrian, right? The newspaper added that Trump was in a "stormy" mood.
Note that in Finland, Trump's deranged press conference was described far more accurately, dubbed a "circus" by one leading newspaper.
That same year, Trump gave a frighteningly incoherent, sweaty, two-hour shout-fest of a speech at a right-wing summit —Democrats are "maniacs" who "hate their country". The press described it as a "fiery" Trump giving a "zigzagging," "wide-ranging," "campaign-like" address where the Republican really "let loose."
None of that polite language describes what's going on — the complete lack of coherency that should define the Trump presidency. Instead, his dead-end utterances get dressed up in news reports in order to make them seem understandable.
When traveling to the U.S. to cover Trump for several days last year, Guardian journalist Lenore Taylor wrote about how amazed she was to watch him speak in person for extended monologues, how utterly illogical his comments were, and how often reporters clean up those comments in order to make them appear sensible within the context of news articles. "Watching just one press conference helped me understand how the process of reporting about this president can mask and normalize his full and alarming incoherence," she wrote in a piece headlined, "As a foreign reporter visiting the US I was stunned by Trump's press conference."  
This much is clear, it's time for newsrooms to bury "fiery" when describing Trump's deranged speeches.
👍🏻 GOOD STUFF:
At this point, it's often difficult so say something new and insightful about Trump's presidency. At New York Review of Books, Fintan O'Toole recently succeeded, with a long, engaging piece, "Unpresidented":
Trump's wild response to the coronavirus disaster and to the Black Lives Matter protests must be seen in connection with the refusal of the Republican-controlled Senate even to go through the motions of a trial after his impeachment by the House. "Unshackled," like he wished the cops to be, from any notion of accountability, Trump has also become unmoored from any relationship to reality.
🎸 FUN STUFF — BECAUSE WE ALL NEED A BREAK
Eric Church, "Stick That In Your Country Song"
Joining the pantheon of great F-You songs, Church's latest delivers a stunning rebuke to Nashville and the country music machine. Church belittles the industry for its refusal to address America's true social ills — racism, gun violence etc. — in the feel-good songs that Nashville artists and record labels market to the masses. It's a welcomed and gutsy message from a superstar of Church's commercial caliber.
"For the last decade, Church has hung his hat on having an outlaw reputation in Nashville," American Songwriter notes. "On Thursday, he put the whole industry on blast, releasing the single as a rallying cry amidst a revolution. Church, emboldened by his position as an industry outsider, leaves nothing behind his latest release. The lyrics are raw, and the tone is urgent."
Gimme one about the teacher who's
Trying to change a life or two
She'll be rocking out all night with you
Tomorrow she'll back in a red brick school
Where kids are climbing off the walls
It's scary walking down the halls
She's underpaid, she's overworked
Come on man, shout one out to her