Discover more from PRESS RUN
Fearless media commentary
Over 56,000 subscribers
This newsletter is only possible because of the support of readers like you who are backing a new kind of independent journalism. If you're enjoying PRESS RUN, please consider subscribing for $6 a month. Much thanks!
Stay healthy.
Be kind.
---
One week after refusing to participate in the officially sanctioned presidential debate, an unprecedented move in modern American politics, NBC News has rewarded Trump by clearing its Thursday primetime schedule to air a last-minute town hall with the previously Covid-19-infected president. As Trump stumbles to the end of his re-election campaign and denounces the press at every turn, the brazen move by NBC highlights the dysfunctional and abusive relationship that has defined the Trump presidency.
He's spent four years maligning the free press as "enemies of the people," while corporate media outlets have granted him unheard of access. No president has been given as much free TV airtime as Trump — it's not even close. Every briefing and virtually every utterance has been carried live and in full.
Not only did NBC scramble to clear its primetime schedule for the wildly unpopular president, but it made sure the Trump town hall is running at the exact same time, 8 p.m., as the previously-scheduled Biden town hall Thursday night on ABC. That ensures voters trying to assess the candidates have to pick between the two events in real time. The move clearly indicates the NBC forum has nothing to do with the public interest during the election season.   
"If Trump insisted on being opposite Biden at 8 pm and NBC gave him that time slot, then that's scandalous," Merrill Brown told me. The former Director of the School of Communication and Media at Montclair State University, Brown was MSNBC.com's first editor-in-chief. "If it was their decision, then they have ignored their civic responsibilities. Why not 7 or 10 pm ET? Offering it at 10 would have served the entire country well by making it available at 7 PT. Why not Friday?"
Lots of people will see this move as an attempted money grab by the network. But if NBC thinks catering to Trump is going to produce blockbuster ratings, the network is bound to be disappointed. There's a good chance Biden will draw more viewers for his town hall Thursday night. Debunking the media myth about how Trump remains some sort of Must See TV president and that he's a cultural phenomenon — a Reality TV star! — whose every word Americans hang on, ratings have consistently shown that most of the country tuned Trump out long ago.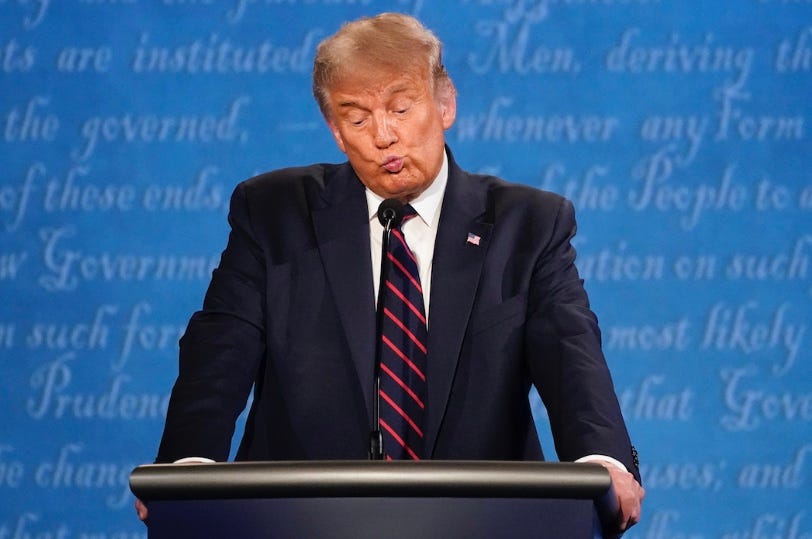 Both Biden and Trump have already had primetime, network TV town halls this campaign, and Biden drew a much larger audience. Because of his raging narcissism and his manic, daily desire to be in front of a television camera, Trump remains wildly overexposed, which means there's no reason to tune in to hear what he's saying since he's been saying the same thing over and over for months. That's why Trump's convention acceptance speech this summer was the lowest-rated one in TV history.
Keep in mind, the reason NBC can sponsor Trump Thursday night is because Trump chickened blew up Thursday's debate with Biden. Once the Commission on Presidential Debates announced that one-on-one would be a virtual event, in the wake of Trump's Covid-19 infection, he refused to show up. This was after he creating a morose spectacle at the first debate, turning the once-serious event into a sewer of insults, interruptions and hectoring. Bullying not only Biden but also moderator Chris Wallace, Trump turned the forum into a circus, shredding yet another tradition of civic discourse in this country.
In response, the Commission was moving to have candidates' microphones muted for the second and third debate as a way to contain Trump's endless outbursts. So he walked away. Against that backdrop, NBC News executives scramble for a way to make sure they can plug Trump into its primetime lineup? They make sure to find airtime for the candidate who categorically refused to participate in the Commission's second debate and who still hasn't told reporters when he last tested negative for the coronavirus?
By the way, Trump is still a congenital liar and NBC will prove to be powerless to stop the torrent of misinformation that he spews at the town hall. That's what happened when ABC News last month hosted a Trump forum — he lied without pause and the moderator only occasionally tried to stop him. Appearing on ABC, Trump lied about Obamacare, Covid-19, Seattle protests, and banning travel from China.
Is Trump going to use the NBC town hall event to attack Kamala Harris a "communist" "monster" and rage about how Hillary Clinton and Barack Obama need to be "indicted," the way he did during a Fox Business interview last week? Is NBC simply crossing its fingers,  hoping that Trump doesn't act like a madman for 90 minutes? Or maybe the network doesn't care.
Trump's still a bully too, who has done incalculably damage to the Fourth Estate in America, with his constant attacks and denigration of the free press. In March, Trump viciously attacked NBC News reporter Peter Alexander, castigating him as "terrible reporter" during a live, televised press briefing. "And the same with NBC and Comcast. I don't call it Comcast. I call it 'Con-Cast.'"
In that context, it's stunning that a major news outlet would rip up its nighttime schedule at a moment's notice to make a special arrangement for Trump, giving him a national platform to lie relentlessly and to likely undermine news gathering in this country, all because he refused to show up at the second debate.
---
GOOD STUFF:
What are the ten best works of journalism in the last ten years? NYU's Arthur L. Carter Journalism Institute just released its compilation. The group considered nonfiction books, daily reporting, documentaries, podcasts and more. Among those honored are Ta-Nehisi Coates, Isabel Wilkerson, and Katherine Boo.
For the full list, and links to their inspiring work, click here:
FUN STUFF — BECAUSE WE ALL NEED A BREAK
Alicia Keys, "Underdog"
The ridiculously talented Keys returns with her latest album, Alicia, and its gorgeous collections of styles of perspectives. "Underdog" is the kind of uplifting, sing-along song everyone needs these days, as Keys delivers a radiant R&B performance and urges optimism at all times.
So I sing a song for the hustlers trading at the bus stop
Single mothers waiting on a check to come
Young teachers, student doctors
Sons on the frontline knowing they don't get to run
This goes out to the underdog
Keep on keeping at what you love
You'll find that someday soon enough
You will rise up, rise up, yeah