Discover more from PRESS RUN
Fearless media commentary
Over 56,000 subscribers
This newsletter is only possible because of the support of readers like you who are backing a new kind of independent journalism. If you're enjoying PRESS RUN, please consider subscribing for $6 a month. Much thanks!
Stay healthy.
Be kind.
---
Once again, Trump enters a presidential debate reeling from a blockbuster revelation. In 2016, Trump squared off with Hillary Clinton just days after the "Access Hollywood" tape was released, capturing him bragging about sexually assaulting women. Tonight, Trump faces Biden in the wake of the bombshell New York Times report about his decades of tax evasion. A key question is whether the press learned anything from 2016 campaign failures, and if they can avoid some of those mistakes with the unfolding debate coverage.
Those missteps include downplaying the endless lies and misinformation that Trump packs into each debate, portraying him as the savvy aggressor, and suggesting Both Sides are to blame when Trump turns the debates into circus-like events.
The press is already leaning hard on the idea that Biden is the marked man Tuesday night, despite the fact he's leading by ten points in the polls. "Biden braces for Trump to come after his family in first debate," Politico warned. "A big night for Trump or a bad night for Biden could alter the trajectory of a race that's barely budged during months of nationwide upheaval."
"Trump readies a debate onslaught — and Biden allies worry," a recent Washington Post headline announced, suggesting it was Trump who was in command of the debate (a "cage match"), and that Democrats were cowering from him. Nowhere in the article did it mention that Trump's a pathological liar who will likely spend the entire evening making stuff up. Instead, the Post stressed Trump was readying a "blistering" attack on Biden, who is "bracing for an onslaught." The Post stressed that if Biden lost his "composure" Tuesday that that would be bad news for the Democrat. No such constraints were put on Trump though, who often becomes unhinged in public, spouting extravagant and discredited conspiracy theories.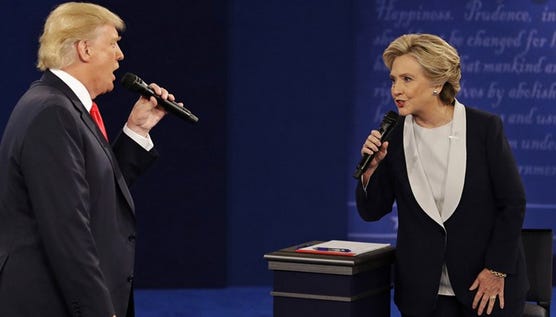 As for the media moderators, there's little hope that they're going to try to hold Trump accountable in any serious way. In fact, all indications are there will be even less effort made in 2020 compared to 2016. The co-chairman of the Commission on Presidential Debates has specifically said he doesn't want the moderators to fact check anybody, which is an incredible position to take when one of the candidates on stage will be an established, congenital liar. Fox News' Chris Wallace, the moderator for Tuesday's debate, echoes that sentiment, claiming his goal is to become "invisible" for the televised event.
And that's part of the problem. "If you ask the president of the United States a question about coronavirus and air his answer, you are helping to misinform the nation about a public health emergency," noted New York University journalism professor, Jay Rosen. "In fact, the single most potent force for misinforming the American public is the current president."
The Commission says it's up to fact-checkers to clean up Trump's mess, after the fact. But as former NBC News exec Mark Lukasiewicz recently explained, "Lying works on live television. Live fact-checking is almost impossible and generally not terribly effective." Tied more to entertainment that public policy, televised campaign events tend to reward the loud, dishonest actors.
A strong moderator would also help curb Trump's bullying interruptions. During his first debate with Clinton, he stepped on her lines 51 times — 25 times in the first 26 minutes. "Trump started loudly talking over Clinton and at times interrupted her with snide, even childish-sounding remarks," Vox noted at the time.
By the third debate when Clinton was fighting back harder, the press presented Both Sides coverage, condemning both candidates when Trump was the one driving the hate. "UGLIEST DEBATE EVER," read a Politico headline. "For 90 minutes Sunday night, Donald Trump and Hillary Clinton called each other liars, untrustworthy and unfit for office as they sparred not so much about their policy differences as their basic characters," Politico reported, making no effort to differentiate between the behavior of the candidates.
Trump that night called Clinton the devil, said she should be in jail and had "tremendous hate in her heart." Clinton never said anything remotely like that, but according to Politico, both candidates created the ugliness — though it was Trump who turned the event into a sideshow when he invited four women who have made decades-old allegations against Bill Clinton to a pre-debate photo-op. 
"In a wild 90-minute debate, Donald Trump and Hillary Clinton brought up dozens of inaccuracies, half truths, and a few surprising truths," NBC reported after that final debate, highlighting 36 fact checks from the evening telecast, leaving the distinct impression that Trump and Clinton were equally dishonest. (They were not.) Virtually none of the debate news coverage in 2016 focused on the fact that Trump showed no hesitation about lying about any topic raised during the forums.
Even though most viewers thought Clinton won each debate, the coverage continued to focus on Trump. "Despite the consensus that Clinton won the debate, Trump has received nearly three times the coverage that Clinton has received," the Post pointed out in 2016.  Throughout the campaign, Trump received way more coverage than Clinton. And no, that coverage wasn't overwhelmingly negative. Landing more coverage was good news for Trump. 
Just like in 2016 after the "Access Hollywood" tape, Trump's now in a desperate situation and will likely lash out at the debate forum. Has the press learned any lessons from four years ago?
GOOD STUFF:
The Republican Party is running into a major roadblock in its effort to suppress the vote nationwide — the law.
From an in-depth piece by Elise Viebeck at the Post:
A review by The Washington Post of nearly 90 state and federal voting lawsuits found that judges have been broadly skeptical as Republicans use claims of voter fraud to argue against such changes, declining to endorse the GOP's arguments or dismissing them as they examined limits on mail voting. In no case did a judge back President Trump's view — refuted by experts — that fraud is a problem significant enough to sway a presidential election.
FUN STUFF — BECAUSE WE ALL NEED A BREAK
Eric Church, "Crazyland"
When I grow up I want to be Eric Church.
"Crazyland" is a double winner — it's a great she's-gone song, and a great dive bar song. "I actually dreamed the chorus of the song, and I woke up ... and I wrote it down, and then I ended up writing the rest of the song to the chorus," Church explained. "I guess when you get to a creative point, you get in the groove like that."
Imagine being able to dream up songs this good.
Pick you out a stool, son
I'll buy the first round
I'll tell you how her leaving
Brought the whole house down
No not that one, that's Sorrows
He's over shaking hands with I Told You So
That's Out Of His Mind that just walked in
He's Ol' Insane's new best friend
It's a whole damn room full of lost whose who's
And you never know who you're gonna run into in