Discover more from PRESS RUN
Fearless media commentary
Over 56,000 subscribers
Thank you always for the support! If you have a free subscription, please consider paying $6 a month, as I try to hold the press accountable in the in age of Trump.
Ultimately, this newsletter is only possible because of the support of readers like you who are backing a new kind of independent journalism.
Stay healthy.
Be kind.
---
The media's four-year campaign to normalize Trump's radical behavior will hit a dispiriting pinnacle this week when the incumbent appears on primetime television and delivers a nomination acceptance speech at the Republican National Convention. Aired by the cable news outlets as well as the major networks, the Trump speech will carry with it all the trappings of official, mainstream American politics.
Trump though, will likely lie nonstop about an array of pressing topics, including a pandemic that has claimed the lives of 180,000 Americans and crippled the U.S. economy. The four-day event, where Trump is scheduled to speak every night, will be a bastion of lies, conspiracy theories, and disinformation, on a scale never before seen in the history of U.S. political conventions. And television news will gladly deliver it, without question.
We know the lying will be ceaseless because untruths define Trump's presidency. He uses the avalanche of falsehoods not just for partisan political gain, but to chip away at our democracy — to undermine the country's faith in shared facts. Given that precedent, does television news bear some responsibility for helping Trump spread dangerous lies about a raging public health crisis, by granting him a primetime platform four nights running?
"It is a genuine dilemma," Mark Lukasiewicz tells me. He's the Dean of the Lawrence Herbert School of Communication at Hofstra University and served as Senior Vice President of Specials at NBC News. "News networks should not knowingly propagate lies and disinformation."
I'd wager that if Democratic nominee Joe Biden lied the way Trump does — without pause, and without apology — he wouldn't be allowed on TV. Because television news would never normalize a Democratic madman.
Trump constantly says the Covid-19 virus will soon disappear and that a vaccine will be ready by November — dangerous lies that are now met with media shrugs. If Biden routinely said the pandemic is going to last five years and claim millions of American lives, he wouldn't be allowed on TV. Trump today crisscrosses the country telling supporters the November election will be "rigged," and a "fraud." If Biden urged voters to vote as often as possible, he wouldn't be allowed on TV.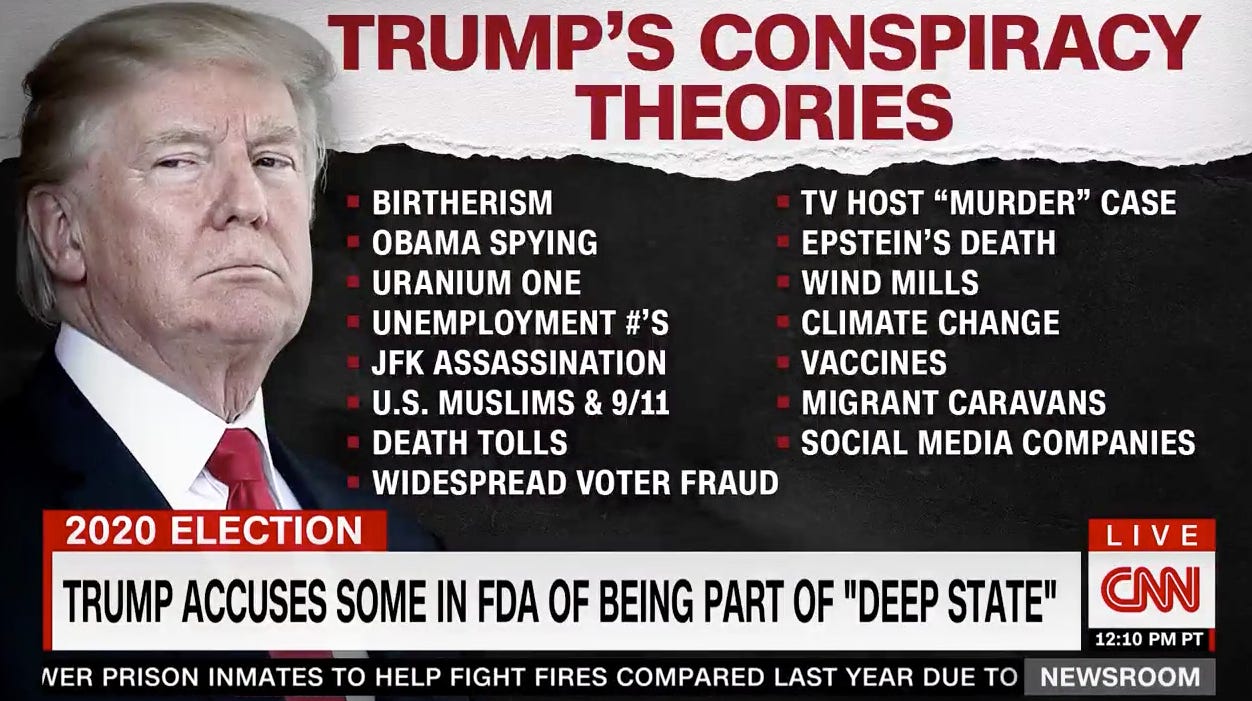 Obviously, Biden would never do those things. The hypothetical's though, highlight the stunning double standard that's at play with Trump and the media, and how his treacherous ways have come to be seen as merely eccentric in the eyes of the press. Journalists presume Democrats should be honest and decent and abide by longtime rules of public discourse. Republicans under Trump are given a complete pass.
The Associated Press published a fact-check during the Democrat's convention last week. In it, some speakers were dinged for mild distortions and sometimes leaving out context. The AP also fact-checked Trump statements from last week, all of which were found to be total fabrications. Yet the wire service presented the two sets of fact-checks under the same umbrella, as if Democrats mostly telling the truth is similar to Trump never telling the truth.
The New York Times, in its preview of the GOP convention, reported the event would be more "traditional" than the Democratic one last week — as if a political gathering where lies are spread nonstop is "traditional." The 1,600-word Times story did not include a single sentence about how Trump would likely use the event to peddle dangerous conspiracy theories.
Republicans under Trump have rigged the system and they know it, which is why there is no hesitation to lie. The Beltway media have chronicled 20,000 Trump lies since taking office, yet won't even call Trump a "liar" in its news pages.
Specifically, the GOP knows it has rigged the convention game because the mainstream media, so terrified of "liberal media bias" calls, don't have the nerve to turn off Trump — to unplug his primetime platform. The GOP knows the press will present the Democratic and Republicans conventions as similar events, just taking place on different sides of the political spectrum. The GOP knows the press won't lean into the mountain of lies and radical rhetoric this week, because it's in the media's best interest to portray Republicans as mainstream players. That way the press can present a safe, Both Sides look at the unfolding fall campaign.
We don't know what Trump's speeches this week will include, but based on recent comments from him it's certainly possible these wild and false claims will be included in his primetime address:
• The FDA is covering up a cure for the pandemic.
• Democrats want to keep schools closed so polling places won't be open in November.
• Students are "almost immune" to the virus.
• Voting by mail spreads the virus.
• Covid-19 will soon "disappear" and we're in the "closing moments of the pandemic."
• 99% of Covid-19 infections are harmless.
• The CDC is "lying" about the pandemic.
If Joe Biden peddled lies like this, he wouldn't be allowed on TV.
---
🗞 GOOD STUFF:
The Washington Post editorial page kicked off a rare campaign-season effort where it's going to routinely publish pieces detailing the harm four more years of Trump would do to America. The effort began on Sunday, with "A second Trump term might injure the democratic experiment beyond recovery":
The capitulation of the Republican Party has been nauseating. Misbehavior that many people vowed never to accept as normal has become routine.

A second term might injure the experiment beyond recovery.

And so, over the coming weeks, we will do something else we have never done before: We will publish a series of editorials on the damage this president has caused — and the danger he would pose in a second term. And we will unabashedly urge you to do your civic duty and vote: Vote early and vote safely, but vote.
😃 FUN STUFF — BECAUSE WE ALL NEED A BREAK
Mary Chapin Carpenter, "It's Ok to Be Sad"
One of my all-time favorite singer and songwriters, Mary Chapin Carpenter returns with her 16th full-length album, The Dirt and the Stars, and it's filled with the sterling, acoustic meditations on life and love that have defined her groundbreaking career.
With "It's Ok to Be Sad," Carpenter offers some much-needed, this too shall pass advice. "I was really trying to comfort myself. I was saying to myself, 'It's okay to feel. It's okay; this will eventually — you know, you'll eventually be able to feel better," Carpenter recently explained. "But when you feel like s--t ... it's okay to express it, and you shouldn't be afraid of it, and you need to share it in order to not feel alone. It's never been more important than it is now to not hide those things. Because feeling alone in those feelings is the hardest part of them."
It's ok to be tired
Fuck all the excuses
Whatever's required
There's no day that's useless
What's hollow and empty
What's lost and undone
What can and what can't be
If you want to learn more about the album, Carpenter recorded a podcast where she discussed the making of The Dirt and the Stars.