Discover more from PRESS RUN
Fearless media commentary
Over 56,000 subscribers
CBS hired conspiracy reporter from Fox News, now she's pushing "Obamagate"
She hyped Benghazi for three years
The response to PRESS RUN has been overwhelming since its launch. I'm thankful to everyone who reads it. Now I want to offer people a chance to support PRESS RUN— to support its mission of progressive media commentary, its voice, and this work by clicking the "Support," "Subscribe" buttons, even if you currently receive the email. Yon can support PRESS RUN for cost of a single premium cup of coffee — $6 a month. (Yes, a free sign-up option still exists.)
Ultimately, this newsletter is only possible because of the support of readers like you who are backing a new kind of journalism that's independent and ad-free.   
Stay healthy.
Be kind.
---
When CBS News last year hired a Fox News reporter who had been aggressively wrong about the Benghazi story for three straight years, it was not a good sign. It's distressing when a mainstream media outlet is so anxious to make nice with conservatives that they hire someone like Catherine Herridge, whose career is filled with misinformation work. But that's what CBS did, despite the reporter's long and shameful history of acting more as a Republican partisan than a straight news reporter.
At Fox News, Herridge peddled whatever Republicans on the Hill were pushing — Hillary Clinton's email server was hacked by a crime syndicate! President Barack Obama was MIA the night of the Benghazi attack! She basically ran an ongoing misinformation campaign on behalf of the GOP. (Her Twitter feed still serves as one.)
Herridge has emerged in recent days as a media point person as the White House tries frantically to smear former President Barack Obama with the hollow claims of a "Obamagate" scandal.
Herridge recently treated Attorney General Bill Barr to a softball interview after he stunned the legal community when the Department of Justice dropped its charges against Trump's former national security adviser, Michael Flynn. He had already pleaded guilty to lying to the FBI in 2017 about his contacts with Russian officials during the 2016 campaign. Then Herridge was handed a Republicans "scoop," which peddled the absurd claim that Obama and Vice President Biden were part of this vast, left-wing, Deep State conspiracy to ensnare the Trump presidency.
Last week, a staffer on Biden's campaign called Herridge a "right-wing hack." He's not the only one taking note recently.  "Democrats on Capitol Hill have grown particularly irked by [Herridge's] work, believing she's become a de facto clearing house for conservative conspiracy theorists who want to give their material the veneer of mainstream objectivity," the Daily Beast reported. Some CBS staffers are becoming increasingly concerned. "Personally I and a few of my other colleagues are really frustrated because we thought she wanted to come to CBS to do real news, not just GOP talking points, but she's just doing more of the same stuff," a network source told the Daily Beast.
Just look at the Barr debacle. Content with landing her exclusive sit-down interview, Herridge went through the motions of conducting journalism or holding anyone accountable. Maybe that's why she was given the exclusive interview in the first place. Trump's Department of Justice understands Herridge is a political ally and that she would go easy on the Attorney General, even in light of his shocking behavior in the Flynn case, which 2,000 former prosecutors and FBI officials insist was so radical and so egregious that Barr needs to resign in order to protect the DOJ's integrity.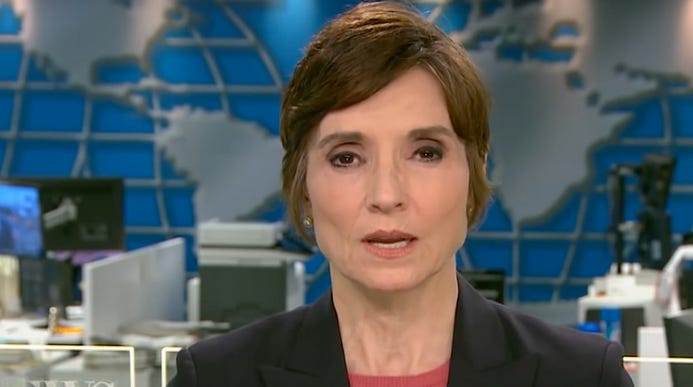 "If any of us, or anyone reading this statement who is not a friend of the President, were to lie to federal investigators in the course of a properly predicated counterintelligence investigation, and admit we did so under oath, we would be prosecuted for it," their letter noted.
Watching Herridge politely walk Barr through the pain-free interview, viewers would have never known that the Trump loyalist had sparked a crisis of confidence in the very idea of an independent judiciary in this country.
Incredibly, later in the interview when the topic of healthcare came up, because Barr's DOJ is in court still trying to abolish Obamacare, during a pandemic, Barr claimed with a straight face that Trump, "expects to fix and replace Obamacare with a better health care system." Herridge let the preposterous lie to go unchallenged.
Viewers familiar with her previous Fox News work likely are not surprised by Herridge's recent behavior.
Back in January 2016, she reported what she thought was a big Fox News scoop: No fewer than 150 FBI agents were investigating Hillary Clinton's emails and the private server she used while serving as secretary of state. The number, as part of Herridge's exclusive report based on anonymous sources, was shocking. If the FBI had assigned 150 agents to fan out across the country and were treating the Clinton email case as one of the most pressing crime probes in the country, akin to a terrorist attack investigation, then of course Fox News' favorite controversy at the time must represent a truly blockbuster scandal, right? I mean, 150 agents.
It turns out Herridge was off by roughly 140 agents.
In some newsrooms, a stunning misstep like that could get you fired. But not at Fox News, where the "news" is designed to provide content for GOP-style propaganda.
Herridge also volunteered her duties to the GOP during the 2016 campaign to spread misinformation about the Clinton emails and the Clinton Foundation. That year, Herridge reported an "exclusive" on the known hacker Marcel Lehel Lazar (aka "Guccifer"), bragging about how he "easily -- and repeatedly -- breached former Secretary Of State Hillary Clinton's personal email server." But as the FBI confirmed, the whole Herridge story was based on a lie.
As Media Matters noted:
According to documents released by the FBI in relation to its investigation of Hillary Clinton's use of a private email server while she was secretary of state, "FBI forensic analysis of the Clinton server during the timeframe Lazar claimed to have compromised the server did not identify evidence that Lazar hacked the server." Additionally, the documents reveal that during questioning by the FBI, Lazar "admitted he lied to FOX News about hacking the Clinton server."
Somehow, CBS looked at her resume and decided they needed Herridge on their team. Their reward is now softball interviews with corrupt Republican officials, and absurd "Obamagate" updates.
---
🤔 GOOD STUFF:
Herridge certainly isn't the only GOP partisan in the media busy doing the White House's bidding in terms of its campaign to run against both Biden and Obama this November. The Washington Post's Erik Wemple provided some helpful context recently in terms of what's unfolding, and the dangerous ramifications of right-wing misinformation:
What's going on with the "Obamagate" story is both familiar and stunning. We have two media spheres citing the same development to reach opposing conclusions. It's a phenomenon that researchers Yochai Benkler, Robert Faris and Hal Roberts explored in their 2018 book, "Network Propaganda: Manipulation, Disinformation, and Radicalization in American Politics." Benkler told the Erik Wemple Blog last year, "The right-wing media ecosystem has developed into a completely distinct and insular ecosystem that operates purely on identity-confirming narratives. Fox News is the leading node in the right-wing ecosystem: It's the primary source of stories, the primary source of accreditation, the primary source of attention."
🎸 FUN STUFF — BECAUSE WE ALL NEED A BREAK:
Ray LaMontagne, "We'll Make It Through"
Stupendously talented LaMontagne, the pride of Western Massachusetts, returns with a new album, featuring this Neil Young-like gem, which takes on added meaning during a pandemic. Brushed drums, harmonica, and LaMontagne's weathered voice deliver a much-need message of enduring commitments and personal perseverance.
I know you're scared, can't see the light
Got to believe it's gonna be alright
Lean on me and I'll lean on you
And together, we'll get through
We always do