Discover more from PRESS RUN
Fearless media commentary
Over 56,000 subscribers
The response to PRESS RUN has been overwhelming since its launch. I'm thankful to everyone who reads it. Now I want to offer people a chance to support PRESS RUN— to support its mission of progressive media commentary, its voice, and to this work by clicking the "Support," "Subscribe" buttons, even if you currently receive the email. Yon can support PRESS RUN for cost of a premium cup of coffee — $6 a month. (Yes, a free sign-up option still exists.)
Ultimately, this newsletter is only possible because of the support of readers like you who are backing a new kind of journalism that's independent and ad-free.   
Stay healthy.
Be kind.
---
Desperate to turn attention away from America's run-away pandemic death toll,  now hurtling towards 100,000 by the end of the month, Trump and Fox News are rolling out a choreographed distraction called "Obamagate." Even more hollow and bogus than previous White House attempts to discredit his popular predecessor, the scheme is all about public relations and media manipulation. It will only work if the Beltway press takes the bait.
The soggy conspiracy represents a frantic attempt by Trump to try to change the topic, as his presidency craters in slow motion. There's no reason why the media should help him. But Trump knows how the Beltway press often can't resist the catnip he offers up in the form of scandalous allegations and blustery accusations.
Trump posted 126 tweets or retweets during his Mother's Day Meltdown on Sunday, occasionally making his Obamagate case by retweeting hardcore conspiracy QAnon accounts. The weekend barrage certainly replicated the image of someone suffering from a mental breakdown. And no, the press does not typically take seriously allegations lobbed by someone in a state of mental distress.
Running with the Obamagate storyline today would only be rewarding Trump's warped behavior. Unfortunately, news outlets don't have a strong record of ignoring the Trump circus, and seem committed to covering and echoing any and every incoherent claim he makes in public. In the midst of a crushing pandemic though, this act ought to be ignored. A nation that's suffering has so many more important issues to focus on right now. And no, just because the president says it doesn't mean the press corps has to cover it. Not when this president has made a habit of wallowing in constant lies and obfuscation. He's lost that right.
What is Obamagate? Honestly, who cares? It's the latest incomprehensible incarnation of a right-wing fever dream about how Obama weaponized part of the federal government to doom Trump's presidency — or something. Oh, and Joe Biden was part of a "coup." It's some sort of "Deep State" Lollapalooza. The "facts" are irrelevant because they're whatever Fox News, Wall Street Journal opinion writers, and Trump can conjure up on any given day. From what I can gather, Obamagate makes the sprawling 1990's Whitewater conspiracy look like an airtight case.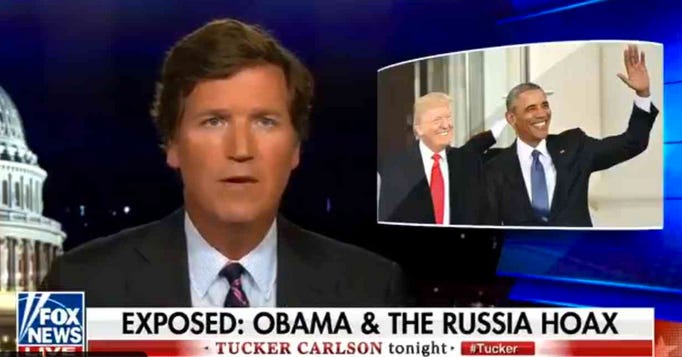 For the Obamagate distraction to work, it has to jump from the confines of the GOP media to the mainstream press. That's the coverage Republicans need to legitimize the Obama pursuit — to dress it up as a genuine news story. Republicans need that now more than ever, as Trump scrambles to save his presidency. His daily pandemic briefings have been abandoned, as polls show Americans view him as supremely untrustworthy when discussing our public healthy crisis. And for good reason. Trump wants states to "reopen" at a time when the White House can't even control the spread of the deadly virus at 1600 Pennsylvania Ave.  
Years ago my Media Matters colleague Jamison Foser coined the phase, privileging the lie. It came about during the 2008 campaign when the political press was assisting John McCain's run by repeating a blatantly false claim he was making about Obama (i.e. Obama was referring to Sarah Palin when he had used the phrase "lipstick on a pig.") The media presented the topic as news, suggesting there might be a legitimate controversy brewing. The press played a central role because it kept repeating the false McCain claim over and over.
We've seen examples of that with some of the Obamagate coverage to date. Here's the opening paragraph from a recent Washington Post dispatch: 
It was Mother's Day, but President Trump mostly had other things on his mind. In a giant tweetstorm on Sunday…the president offered scattershot commentary on a range of topics. He accused former president Barack Obama of committing a crime (i.e., #ObamaGate), railed about the prosecution of his former national security adviser Michael Flynn and defended his handling of the coronavirus pandemic.
And this recent headline from The Guardian: "Trump claims Obama committed 'biggest political crime in American history'"
What's the message for readers? It's that Obama's been accused of lawbreaking. That's not just privileging the lie, that's privileging the conspiracy. Trump's too lazy to even lay out what the supposed crimes are that Obama committed. All he'll offer up is a vague outline. When asked Monday what wrongdoing Obama had allegedly committed, Trump replied: "Some terrible things happened, and it should never be allowed to happen in our country again. You know what the crime is. The crime is very obvious to everybody, all you have to do is read the newspapers."
Politico did a somewhat better job with its coverage, emphasizing in the first sentence that Trump's allegation was unproven: "Trump's Senate allies on Monday stopped short of echoing Trump's frenetic and unsubstantiated claim that Obama acted illegally when the Justice Department began probing incoming national security adviser Michael Flynn in late 2016."
Still, Politico proceeded to spend 1,100 words on a story about the political jockeying surrounding Trump's "unsubstantiated claim."
For the record, there is a legitimate way to cover this unworthy story, and that's with headlines like, "Trump Concocts Obama Conspiracy to Deflect from Pandemic Deaths." I don't have faith that news outlets are willing to be that blunt and honest, considering most of them still won't label Trump a "liar."
No matter how loud the Trump howls become, the press should sit out the Obamagate charade.
---
GOOD STUFF:
This is now the only way I can take in Trump's public statements:
FUN STUFF — BECAUSE WE ALL NEED A BREAK:
The Pretenders, "The Buzz"
The Pretenders return with their eleventh studio album and this new single sounds great, all jangly and melodic. It's exactly what you'd hope a new Pretenders song would sound like. Dependable, a tiny bit predictable? Sure. But we're in pandemic folks, dependable and predictable are suddenly glorious virtues.
Somehow lead singer Chrissie Hynde's voice is just as alluring and captivating as it was in the winter of 1980 (!), when the band's debut album announced the arrival of a stellar and enduring Hall of Fame rock band with a lot on its mind.