Discover more from PRESS RUN
Fearless media commentary
Over 56,000 subscribers
The response to PRESS RUN has been so gratifying since its launch. I'm thankful to everyone who reads it. Now I want to offer people a chance to support PRESS RUN — to support its mission of progressive media commentary, its voice, and this work by clicking the "Support," "Subscribe" buttons, even if you currently receive the email. Yon can support PRESS RUN for cost of a single premium cup of coffee — $6 a month. (Yes, a free sign-up option still exists.)
Ultimately, this newsletter is only possible because of the support of readers like you who are backing a new kind of journalism that's independent and ad-free.   
Stay healthy.
Be kind.
---
Journalists across the country were harassed, arrested, and targeted by the police as reporters covered the coast-to-coast uprisings that erupted after a Minneapolis police officer murdered George Floyd. The brazen attacks on the press must have made Trump smile.
The disturbing and dangerous weekend spectacle confirmed that Trump's years-long, authoritarian campaign to dehumanize the free press is having a real impact, and not just among Fox News viewers. The often-wanton disregard for the media's safety when covering the protests was punctured by deliberate attempts by law enforcement to injure and arrest clearly identified journalists on the scene.
"I was twice ordered at gunpoint by Minneapolis police to hit the ground, warned that if I moved "an inch" I'd be shot. This after being teargassed and hit in groin area by rubber bullet," tweeted Minneapolis reporter Chris Serres. "Waiving a Star Tribune press badge made no difference." (Journalists have a clear First Amendment right to be covering the protests without fear of police attacks, and reporters are exempt from curfews imposed by local authorities. Except in Cleveland)
Law enforcement's relentless and widespread show of aggression towards the news media, where some reporters were pepper sprayed point-blank while laying face down, was likely unparalleled in American history. It's the type of life threatening attacks that reporters usually only face when covering a foreign war zone. But now it's happening in Trump's America.
"By denigrating journalists so often, he has degraded respect for what journalists do and the crucial role they play in a democracy," said Suzanne Nossel, chief executive of PEN America, told the Washington's Post's Margaret Sullivan. And that's exactly the goal of authoritarians — to completely degrade the role of the free press.
For decades, conservatives and Republicans badgered the press over hollow claims of "liberal media bias," as a way to work the refs; to intimidate journalists so that next time there's a close call the GOP gets the benefit of the doubt.
What Trump has spent the last five years doing, since he entered the presidential race in June of 2015, is unprecedented — he's trying to strip the press of its legitimacy. He's been running a textbook authoritarian propaganda campaign to destabilize the free press and he's widening his war on the press at a breathtaking pace. Unequivocally targeting journalists as the "enemy of the people," Trump has signaled to the party and to the larger conservative movement that it's open season on the news media.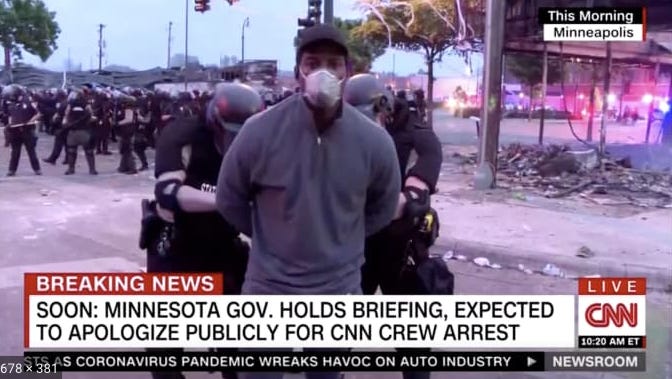 Incredibly, some in the press still won't make the public connection between Trump's violent rhetoric and physical attacks on the media. Over the weekend, the New York Times and the Washington Post detailed attacks on journalists covering the protests. Yet the articles never mentioned Trump and his rancid anti-media attacks. 
The violence today isn't new. Recall that while running in a special Congressional election in 2019, Montana Republican Greg Gianforte grabbed Guardian reporter Ben Jacobs by the neck and lifted him off the ground at a campaign event, body slammed him to the floor and started punching him.
Republicans are just following Trump's lead. "I called the fake news 'the enemy of the people' -- and they are. They are the enemy of the people. Because they have no sources, they just make them up when there are none," Trump announced, just days after being inaugurated. After that, Trump reportedly urged then-FBI Director James Comey to jail reporters.
On the 2016 campaign trail, Trump regularly called reporters "disgusting" and "horrible people." His campaign manager Corey Lewandowski was charged with simple battery of a reporter (the local prosecutor ultimately decided not to prosecute him), and that a Time photographer was slammed to the ground during a Trump rally.
That's why the Committee to Protect Journalists has singled out Trump as the world's worst press oppressor —beating out dictators like Russian President Vladimir Putin, Turkish President Recep Tayyip Erdogan, and Egyptian President Abdel Fattah el-Sisi. Trump was named the winner of the Overall Achievement in Undermining Global Press Freedom award for going "above and beyond to silence critical voices and weaken democracy."
We saw democracy dramatically weakened over the weekend:
*Detroit: A Free-Press reporter was pepper sprayed while holding up his media badge.
*Las Vegas: two photojournalists on assignment to cover protests were taken into police custody on Friday night. The police lied about the photographers failing to identify themselves as journalists.
*Louisville: An officer fired pepper balls directly a local TV reporter, Kaitlin Rust, while she was live on the air: "I'm getting shot! I'm getting shot!"
*Los Angeles: Police unleashed rubber bullets on reporters. One journalist was punched in the stomach by an LAPD officer.
*Minneapolis: Police opened fire with rubber bullets on a local CBS News crew, while the ABC News crew was tear gassed and pepper sprayed. So were reporters from the Los Angeles Times. Simon Moya-Smith was pepper sprayed and arrested after identifying herself as a journalist many times. Photojournalist Linda Tirano was permanently blinded in her eye after being hit in the face with a rubber bullet fired by police. Earlier, CNN reporter Omar Jimenez was handcuffed and detained live on the air.
New York: A HuffPost reporter was violently arrested.
"When journalists are attacked, societies are attacked," UN secretary general António Guterres tweeted on Saturday after watching the shocking scenes unfold in the U.S. "No democracy can function without press freedom nor can any society be fair without journalists who investigate wrongdoing and speak truth to power."
Trump knows that. And that's probably why he's smiling.
---
GOOD STUFF:
Just as observers shouldn't make sweeping, and often negative, conclusions about the protesters, we shouldn't make sweeping, negative conclusions about law enforcement. But there clearly have been warnings in recent years about police departments across the country being staffed by MAGA-type white nationalists who have no business patrolling our streets with the power of the badge.
If you want to learn more, here's a 2016 report from PBS: "FBI warned of white supremacists in law enforcement 10 years ago. Has anything changed?":
In the 2006 bulletin, the FBI detailed the threat of white nationalists and skinheads infiltrating police in order to disrupt investigations against fellow members and recruit other supremacists.
FUN STUFF — BECAUSE WE ALL NEED A BREAK:
The Cars, "It's All I Can Do"
Sometimes there's a real thrill that comes from discovering, or re-discovering, an old song that suddenly sounds new and fresh. For me lately, it's been this distant song by The Cars, a band that I've never been a huge fan of. But I recently crossed paths with the song and there's something so alluring about the melody for a song I didn't pay much attention to when it was released a million years ago. (1979 to be exact.) I think it helps this isn't one of the six Cars hits that have been hammered to death on classic rock radio over the decades. It's kind of been lurking in the shadows. (The song peaked at No. 41 on Billboard's Hot 100.)
I love this Wiki description of the song: "The bass lines and the G major guitar riffs have a major rock feel, but the song is softened down with Benjamin Orr's vocals and Greg Hawkes keyboard and synth lines." It's all true: The G major, Orr's perfectly unhurried vocals, and the subtle synth lines are what make the song sound so strong four decades (!) later.