Discover more from PRESS RUN
Fearless media commentary
Over 56,000 subscribers
Thanks to everyone who has signed up for PRESS RUN during the first four weeks, the response has been amazing. If you're enjoying the newsletter, please help spread the word on Facebook, Twitter, and among friends. (Click "share" button below.) And thanks again for supporting independent voices. Cheers.
---
Leaving the White House Friday afternoon to board the Marine One helicopter, Trump stopped to address reporters about the looming threat of a coronavirus pandemic, which had sent the Dow Jones industrial average tumbling thousands of points last week. Trump is handling the pressing health crisis with his usual toxic mixture of incoherence, denial, and misinformation.
This was his muddled response after being asked about the total number of cases in the United States. And keep in mind, this came after he was briefed by officials:
A lot of people are getting better.  Very much better.  The 15 number...The 15 people, likewise, we have them down to a much lower number.  They're in good shape.  Most of them are in really good shape.  One of the people is — I wouldn't say "not doing well," but it's very — she's very sick.  But she's hopefully getting better. But we're at the same number.  We've only — so, it — essentially, we've only had 15. 
Trump then went on to blame CNN for spreading fear about the virus, suggesting somehow it's not a real thing to be concerned about, and that the stock markets actually suffered their worst week in a decade because investors were spooked by a Democratic candidates debate last Tuesday night. In other words, it was complete gibberish by any working definition, tied together by Trump's signature cocktail of incoherent, angry, whiny monologues, filled with lies and rattled conspiracy theories.
As I noted on Twitter while Trump delivered his rambling, nonsensical comments about the deadly topic, I often wonder why, among the throngs of reporters who surround Trump to record his quotes and ostensibly to ask him questions, not one has ever snapped after listening to the relentless lies, and blurted out something like, 'What f**k are you talking about?!'  Let's be honest, that would be the normal, human response after absorbing Trump's confused answers to a very important coronavirus questions. 
But that sense of wonderment, that sense of shock as to what the office of the presidency has devolved into under Trump, remains purposefully banned from the vast majority of the White House coverage these days.
Hiding behind the need to be 'neutral,' and content to cling to access while simultaneously afraid of getting banned from 1600 Pennsylvania Ave. by an administration that advertises its authoritarian ways, reporters have settled into a numbing routine of not seriously questioning Trump to his face, and certainly never risking entrée in order to declare the emperor has no clothes. Permanently stuck in reactive mode as they chronicle Trump's bizarre and untrue pronouncements, White House journalists have largely become spectators.
And that's why I doubt we'll ever see that genuine, WTH moment from a White House reporter.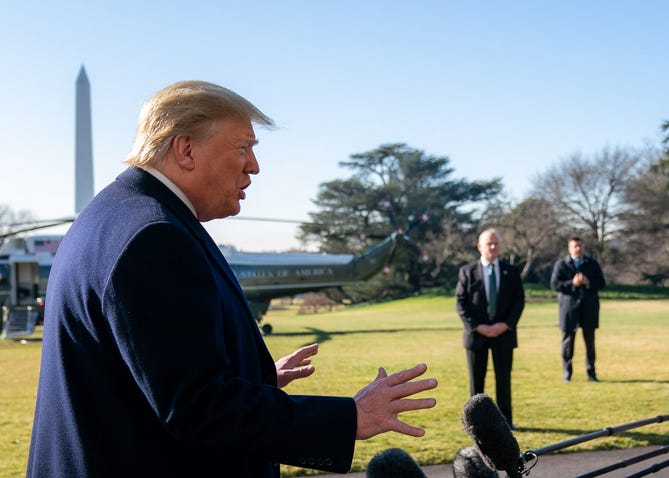 Remember, this is an anti-press White House that pulled off the impossible — it canceled daily press briefings, a Beltway move that was unthinkable just four years ago. But not only did this White House pull the plug, it received virtually no pushback from news organizations. Rather than take a definitive, collective stand and demand access and accountability, news organizations opted for tentativeness, which allowed the White House to erase the briefings in slow motion—to make their absence the new normal.
With the briefings canceled, and a press secretary who rarely engages with non-Fox News journalists, White House reporters now scurry around trying to toss questions to Trump, often while he's leaving for the helicopter. There, as the nearby blades whirl, journalists shout out topics for Trump to talk about. There's virtually no meaningful follow-up and Trump can simply ignore questions he doesn't want to answer. And no matter how inane or absurd his responses, reporters simply nod, making sure to capture his comments, which are often broadcast in full as breaking news on cable TV.
Over the years, Beltway journalists have often been hit with the allegations that they're nothing more than stenographers;  that they've eliminated the key aspect of their job, which is to hold the powerful accountable, in exchange for the right to be near the powerful. In the case of Trump, it's not an allegation, it's quite clearly a fact.
Clinging to the Beltway tradition and protocol that says the president must be treated a certain way and must be accorded respect, the press now turns a blind eye to all the traditions and protocols that Trump has shred since being sworn into office. (See his trip overseas last week where Trump publicly trashed his political foes back home.)
Somewhere in that crowded White House press corps, isn't there just one person thinking, 'I'm mad as hell and I'm not going to take it anymore'?
---
GOOD STUFF:
While traveling to India to cover Trump last week, CNN's Jim Acosta did get in a somewhat contentious back-and-forth with Trump at a press briefing, with Acosta insisting, CNN's "record on delivering the truth is a lot better than yours sometimes, if you don't mind me saying."
I applaud the reporter's willingness to call Trump out. But it still wasn't the type of truly authentic, raw response that's so obviously overdue from a member of the White House press corps, where a journalist unapologetically rips off the mask of platitudes and speaks truth to power regarding Trump's lying ways.
FUN STUFF — BECAUSE WE ALL NEED A BREAK
The Highwomen, "Crowded Table"
Folks who follow me on Twitter (@EricBoehlert), know that I sometimes venture off the path of politics and tweet about the current controversy at country radio, where women artists land just 10 percent of all FM airplay. It's an embarrassing, sexist way to program radio, especially for a format that appeals to so many women listeners.
The Highwomen, a Nashville supergroup made up of Brandi Carlile, Natalie Hemby, Maren Morris, and Amanda Shires, are exactly the kind of act that should be blanketed on country radio. "Crowded Table," offers a sincere, tuneful look at family.
The door is always open
Your pictures on my wall
Everyone's a little broken
And everyone belongs
Yeah everyone belongs