Discover more from PRESS RUN
Fearless media commentary
Over 56,000 subscribers
The response to PRESS RUN has been overwhelming since its launch. I'm thankful to everyone who reads it. Now I want to offer people a chance to support PRESS RUN— to support its mission of progressive media commentary, its voice, and this work by clicking the "Support," "Subscribe" buttons, even if you currently receive the email. Yon can support PRESS RUN for cost of a single premium cup of coffee — $6 a month. (Yes, a free sign-up option still exists.)
Ultimately, this newsletter is only possible because of the support of readers like you who are backing a new kind of journalism that's independent and ad-free.   
Stay healthy.
Be kind.
---
Accusing a cable news host this week of murder and insisting he's dangerous to "walk the streets," Trump sparked another wave of protest over why Twitter hasn't banned him for blatantly violating the company's user guidelines on a daily basis. Posting slanderous attacks and an avalanche of lies that would've gotten any other user kicked off the social media platform long ago, Trump has bullied Twitter into submission. The company joins a long list of global media outlets that have opted to bow down to Trump for the last three years.
And yes, Twitter should be "ashamed" of itself.
That was the message MSBNC's Mika Brzezinski rightfully broadcast Wednesday, after Trump unleashed vile and unhinged attacks against her husband, MSNBC's Joe Scarborough. "When will they open a Cold Case on the Psycho Joe Scarborough matter in Florida. Did he get away with murder?" Trump taunted. "Some people think so. Why did he leave Congress so quietly and quickly? Isn't it obvious? What's happening now? A total nut job!"
"Donald, you are a sick person," stressed Brzezinski. "You're really a cruel, sick, disgusting person." Brzezinski also tweeted at Twitter CEO Jack Dorsey, demanding to know why Trump's murder tweets weren't taken down. Later in the day she announced she'd be speaking with Dorsey about the matter.
Odds are nothing will come of the conversation since Twitter refuses to take any punitive action against its most high-profile user.
"Twitter announced last summer that it would label tweets from world leaders that broke its rules," CNN reported. "But a month after Twitter announced the policy, the company said tweets in which the president used racist language to attack four progressive Democratic congresswoman were not against its rules — a conclusion apparently contradicted by Twitter's written policies."

Empowering Trump's hate certainly runs counter to the company's expressed culture.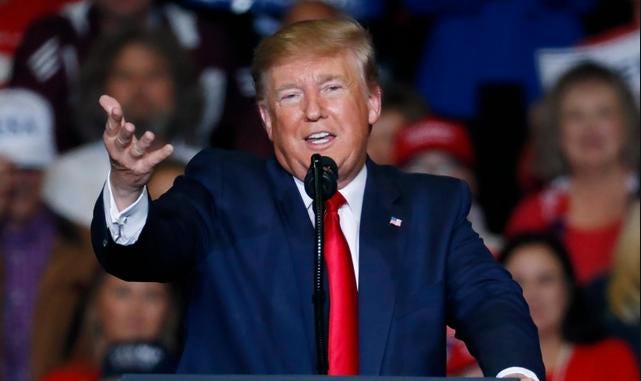 The fact that a private company allows Trump to use their platform to spread ceaseless hate only makes it worse. Trump's using a company that clearly forbids its users from "targeting individuals with repeated slurs, tropes or other content that intends to dehumanize, degrade or reinforce negative or harmful stereotypes about a protected category." Yet Trump aggressively violates those conditions and the social media behemoth does nothing to hold Trump accountable, and Twitter does nothing to protect the victims of Trump's constant online bullying attacks.
Earlier this month, Twitter made news when it announced it would put a label and warning messages on some tweets that contain misleading information related to Covid-19, even if tweeted by Trump. (I haven't seen the company do so yet.) Of ourse the policy should include Trump. The fact that Twitter was finally willing to hold him to the same standard as everyone else, if only regarding Covid-19 tweets, highlighted the company's ongoing failure and cowardice.
In truth, Trump should be banned. Period. Dumping Trump from Twitter would rob Trump of a critical communications platform. It would also go a long way toward restoring some dignity to our public dialogue. And yes, private companies are well within their rights to deny service to customers who chronically fail to follow the rules of conduct. (I.e. this is not a freedom of speech issue.)
The Trump Twitter conundrum gains added importance during the 2020 election season. Trump no doubt will use the social media platform and his nearly 70 million followers to spread endless lies about Democrats while inciting fresh political violence, and do it all with the social media company's blessing. To be successful in 2020, Trump must flood social media with unparalleled amounts of false information and concocted "news" stories, and not be constricted by the social media guidelines.
Why the special rules for Trump? Why should all of Twitter's other users get punished for violating its terms of service, while Trump remains protected? And why do demands from Democrats go unheeded?
"When Trump is using his tweets to make threats, incite violence and intimidate witnesses, this is insufficient," Sen. Kamala Harris (D-CA) wrote to the company last year in response to Twitter more non-action against Trump's dangerous tweets. "Others have had their accounts suspended for less offensive behavior."
Trump's public bullying of Twitter has worked, and that's why the company is too afraid to take the obvious steps to remedy the abusive situation. In the last three years in particular, social media and tech giants such as Twitter, Facebook and Google have emerged as prime targets in the conservative movement's endless search for "liberal media bias" villains. And it works.
Conservatives bring down the hammer via Congressional hearings, presidential tweets, relentless messaging from Fox News, and hardball legal action. Right-wing activists have shifted their focus and are using the same playbook they used for decades on newspapers, cable news, and network TV for years — raise holy hell about bogus claims of bias, and strike fear into media executives. Conservatives complain so loudly and so ferociously about phantom fouls of "liberal bias" that social media companies think twice about even appearing to offend Republicans.
Suddenly Twitter cowers to a bully and invents new standards just for Trump. Brzezinski's right, the company should be ashamed.
---
💪🏻 GOOD STUFF:
Here's the full Brzezinski take down of Twitter and Trump:
⛱ FUN STUFF — BECAUSE WE ALL NEED A BREAK:
James Taylor, "Summer's Here"
Every year when Memorial Day weekend creeps onto the horizon, I think about one of my favorite songs about summer. This laid-back, lesser-known Taylor ditty perfectly sums up my favorite season.
Summer's here, I'm for that. Got my rubber sandals, got my straw hat.
Drinking cold beer, man,I'm just glad that I'm here.
It's my favorite time of the year And I'm glad that I'm here, yeah.