Discover more from PRESS RUN
Fearless media commentary
Over 56,000 subscribers
If you signed up for PRESS RUN and are enjoying it, please consider subscribing ($6 a month) to support a progressive voice holding the press accountable in the age of Trump.
Ultimately, this newsletter is only possible because of the support of readers like you who are backing a new kind of journalism that's independent.
Stay healthy.
Be kind.
---
Trump spent last week turning his back on a raging pandemic, firing a federal prosecutor who's investigating key White House allies, and threatening violence against peaceful protesters. As his re-election run sputters, Trump's accelerating the rate of his attacks on democracy.
Trump's at war with an unraveling America, that much is clear. The parallel reality is that the American press corps does not know how to deal with this frightening scenario. Or it does know, it just doesn't have the courage to put that into practice.
Too timid to call Trump out as a radical saboteur who foments racial violence for political purposes, the Beltway media busies itself chronicling his controversies, documenting his "falsehoods" (never "lies"), and occasionally highlighting his hypocrisy. But an honest discussion about Trump's plot against America? That's not really allowed in the news pages.
It needs to be. Just this month, as part of his dangerous blueprint, Trump: 
•Falsely claimed the Covid-19 pandemic is "dying out," while urging states to loosen restrictions even as local infection rates spike.
• Withdrew America from the World Health Organization during a pandemic.
• "Joked" about 110,000 pandemic deaths in the U.S.
• Boosted a fringe, right-wing conspiracy theory from a group the FBI has deemed to be a potential domestic terrorist threat.
• Shared a clearly doctored video (of children!) with his 80 million Twitter followers.
• Was tagged by Facebook for trying to "glorify violence" online.
• Unilaterally decided to allow Russian leader Vladimir Putin attend the upcoming G7 Summit. (Russia was suspended in 2014 after it unlawfully annexed Crimea.)
• Unleashed military-style forces on peaceful protesters outside the White House so he could stage a photo-op at a nearby church.
• Attacked an injured 75-year-old peace activist in Buffalo, N.Y., as a terrorist sympathizer.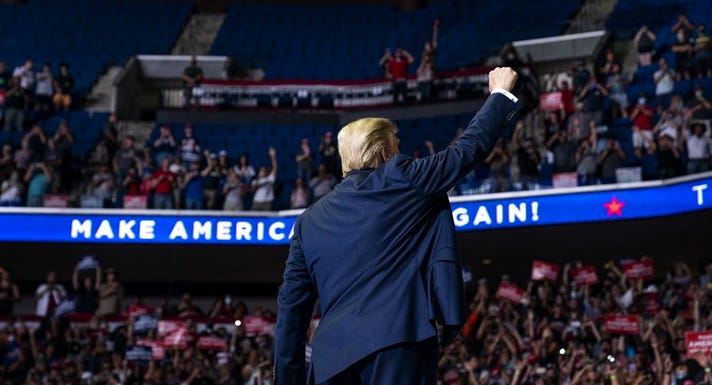 Meanwhile, we learn in the new book from Trump's former national security aide, John Bolton, that Trump:
• Promised to remove federal prosecutors who were going after a Turkish bank because President Recep Tayyip Erdogan asked him to intervene.
• Insisted  the Ukrainian government hand over incriminating information about Joe Biden before he would release congressionally approved aid to the country.
• Signaled to China's communist leader, Xi Jinping, that he was willing to reverse prosecution against Chinese firms as a personal favor, and offered to reduce tariffs on Chinese goods if the Beijing agreed to buy more American agricultural products, in hopes it would boost Trump's re-election chances.
If that's not a plot against America, I don't know is.
That phrase comes from Philip Roth's landmark novel, and recent HBO series, "The Plot Against America." It tells the alternative American history in which isolationist Charles Lindbergh ousts Franklin Roosevelt as president, then refuses to enter World War II, forms a non-aggression pack with Hitler's victorious Germany, and allows fascism to flourish in America. Told through the eyes of a Jewish family in Newark, N.J., who are threatened with a government dispersement program, the novel offers up the chilling what-if scenario of an American president who actively plots against America's best interest, while curtailing liberties and freedom for all.
When it was published in 2004, the book's plot was written off by some as implausible, and even alarmist. Today, it's been like watching the Trump presidency unfold in slow motion as we witness the unthinkable — a president scheming against America.
We're taught that the President of the United States has the country's best interest at heart. There's constant disagreement, from administration to administration, over what those interests and priorities are. But the idea that the commander-in-chief would purposefully try to harm America's security and shatter its standing on the global stage had been an unthinkable scenario, until now. The mounting evidence leaves no doubt that as a country, we're facing a defining crisis.
For journalists, that means there's a pressing need to aggressively address the bigger picture about a president who seems determined to watch America crumble and decay, on his watch. What matters now is asking the difficult questions and pondering what the Trump presidency is truly about, no matter what darkness lurks in the shadows.
The recent twin towers of the pandemic and historic, Black Lives Matter street protests leave no doubt about the urgency, as Trump actively and purposefully makes both nationwide crises worse with each passing day.
"He did not try to calm the roiling anger, as the leader of a country beset by strife and division should. Instead, he poured fuel on the flames of unrest," a Houston Chronicle editorial recently noted. "Think about that. Our nation's most prestigious public office, along with the man who occupies it, had to be cited by a social media platform for glorifying violence."
As for the purposeful vacuum of leadership surrounding the pandemic, "It really does feel like the U.S. has given up," a New Zealand epidemiologist told the Washington Post last week. She's right, the administration has given up. And that's if you believe Trump's team ever put up a fight in the first place. I don't think they did. Instead, Trump ordered a stand down order for the virus invasion.
And we still don't know why.
---
GOOD STUFF:
Bloomberg's Tim O'Brien offers a deeper look into Trump's run-away corruption. And specifically, his move to fire U.S. Attorney in Manhattan, Geoffrey Berman, last week as Attorney General William Barr takes an ax to the DOJ's credibility:
There's scant reason to trust Barr's take on matters of the law any more. He misrepresented the conclusions of Special Counsel Robert Mueller's investigation into ties between Trump's team and Russians trying to sabotage the 2016 election, saying Mueller found no evidence of collusion or obstruction of justice. He's publicly savaged federal prosecutors who had ample reason to investigate Trump and then launched a witch hunt to discredit them. He's tried to interfere with or undermine other high-profile cases involving Trump associates or appointees such as Roger Stone and Michael Flynn. His office soft-pedaled its investigation of Trump's maneuvers in Ukraine.
FUN STUFF — BECAUSE WE ALL NEED A BREAK
Bob Dylan, "False Prophet"
Dylan's debut album was released 58 years ago, on March 19, 1962. "False Prophet" is from his brand new album, and I kinda love it. A slow, timeless blues shuffle, "False Prophet" finds the sometimes-erratic Dylan in top form, fueled by his confident, assertive vocals. The six-minute journey feels like an unhurried summer respite.
As for what it all means? (Celebrity culture and the pursuit of authenticity?) With Dylan, it's not always possible to tell. It's best just to enjoy the ride.
Well I'm the enemy of treason
Enemy of strife
I'm the enemy of the unlived meaningless life
I ain't no false prophet
I just know what I know
I go where only the lonely can go