Discover more from PRESS RUN
Fearless media commentary
Over 56,000 subscribers
This newsletter is only possible because of the support of readers like you who are backing a new kind of independent journalism. If you're enjoying PRESS RUN, please consider subscribing for $6 a month. Thanks!
Stay healthy.
Be kind.
---
Droning on for nearly 80 minutes Thursday night, delivering the same rally address he's been giving for the last year, Trump's convention acceptance speech was the lowest-rated one in primetime history, drawing 24 million viewers. (John McCain's acceptance speech drew 39 million viewers in 2008.) Trump drew fewer viewers than Joe Biden did for his acceptance speech the week before, a humiliating blow to Trump, who routinely mocks Biden for lacking charisma. Kamala Harris' Democratic convention speech drew five million more viewers than did Vice President Mike Pence's address.
Feeding his constant need for attention, Trump insisted he appear four nights in a row in primetime last week. He flooded the airwaves with Trump, just as he does by constantly holding press briefings even though he has nothing to say. "Over time, the news conferences have become increasingly devoid of actual news," ABC News recently conceded. He's ubiquitous and repetitious, and Americans aren't interested because Americans don't like reruns. Ratings for the four nights were down nearly 25 percent compared to the GOP's 2016 convention.
Trump's weak public draw only undercuts the news media's ongoing, indefensible decision to treat his every utterance as Breaking News. Having convinced itself that Trump represents a once-in-a-lifetime cultural phenomena — a Reality TV star! — the press acts as if every Trump pronouncement must be viewed as hugely important, and aired unfiltered to the masses. Every briefing, every speech, every media gaggle. No president has been given as much free airtime as Trump — it's not even close. The press buys into the myth that Trump is a master media manipulator and a prized communicator.
Truth is, Trump's the most consistently unpopular president in modern American history, and one who sparks low interest among voters outside of the Fox News bubble — voters who likely tuned him out years ago given his obsession with being the center of attention. The convention audience last week was just the latest event to confirm that.
Last summer, ABC News aired a news-less, primetime Trump special, built around the idea of tagging along with him for 30 hours inside the White House. The interview special flopped, coming in third place among the three major networks on Sunday at 8 PM ET. Worse, the show produced just half the television audience that ABC's Celebrity Family Feud attracted in the same time slot one week earlier.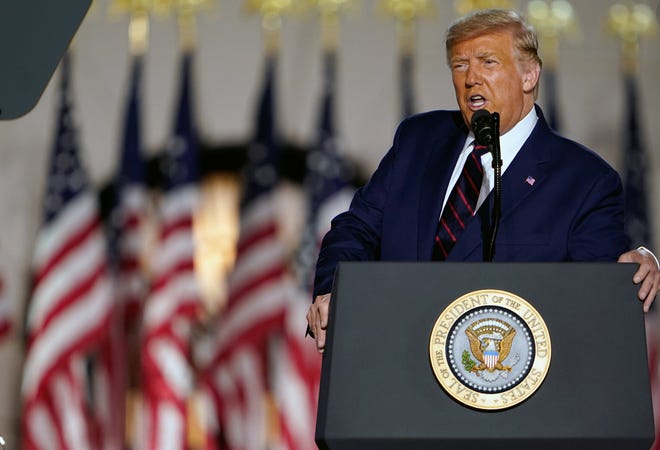 The previous year, when Trump sat down for a 60 Minutes interview, he garnered an audience one-half of the size that former adult-film actress Stormy Daniels landed when she was interviewed months earlier on the same show, where she detailed her sexual liaison with Trump and his campaign's efforts to buy her silence in 2016. Also, the audience for Trump's 2017 60 Minutes interview was one-half the size of his 2016 60 Minutes interview.
In 2018, Trump's first official State of the Union address drew a smaller audience than those of his two predecessors—eight million fewer viewers tuned in to watch Trump as compared to President Barack Obama's first State of the Union. This winter, speaking to the nation amidst the final stages of the Senate impeachment trial, Trump attracted nearly 10 million fewer viewers as compared to his 2019 State of the Union speech — Americans had checked out.
It gets worse. When Trump sat down for his first pre-Super Bowl interview in 2017, the audience was 12 million viewers. When Obama did the same thing in 2009, 22 million people watched. In 2017, when Trump turned his announcement of a Supreme Court nominee into a prime-time TV production, 33 million people watched. By contrast, Obama's first prime-time event of his presidency was a press conference he held on the night of February 4, 2009, when nearly 50 million Americans watched.
Trump's tepid Nielsen numbers are bad news for the president, since he's obsessed with television ratings. "He has tweeted about ratings hundreds of times, often inaccurately," CNN recently noted. For years, he has turned to ratings as a way to both validate himself and undercut his foes. Trump loves to push the media myth that news ratings often skyrocket thanks to him. Trump once claimed that when he appeared on Fox News Sunday in November 2018, the show landed 9.2 million viewers. In truth, 1.7 million people tuned in.
The media need to ditch the tired idea that Trump's a charismatic figure. There's no evidence to support the idea that Americans hang on his every word. In fact, there's plenty of ratings data that suggests much of the country has completely tuned Trump out.  
---
GOOD STUFF:
✏️ Excellent piece here from The Nation's Joan Walsh, on how Democrats are winning back so many state legislative seats lost during the previous decade:
The good news: In 2017 the resistance to Trump ran through state legislative races as Democrats won back 14 state seats in special elections, plus an astonishing 15 in Virginia that November (11 of them going to women, including five women of color). Learning the lessons of Virginia, a broad roster of national groups, some of them institutional and some the so-called resistance pop-ups—from a renewed Democratic Legislative Campaign Committee (DLCC) to Indivisible, from Emily's List to Flippable, from former attorney general Eric Holder's well-funded National Democratic Redistricting Committee to scrappy Sister District—put admirable muscle into statehouse races in 2018. The result: They turned 380 seats from red to blue that November, flipping chambers in six states.
---
🎸 FUN STUFF — BECAUSE WE ALL NEED A BREAK
Pretenders, "Maybe Love is in NYC"
Let's hope so, NYC needs lots of love these days. (From the Pretenders' new album, which is fantastic.)
Maybe love is in New York City
Fluorescent streets might lead me to it
I've been to Barcelona, Lima, and Hong Kong
If it was here, I never knew it
If it was here all along