Discover more from PRESS RUN
Fearless media commentary
Over 56,000 subscribers
A reminder that this newsletter is only possible because of the support of readers like you who are backing a new kind of independent journalism. If you're enjoying PRESS RUN, please consider subscribing for $6 a month. Much thanks!
Stay healthy.
Be kind.
---
Trump stunned Beltway insiders on Tuesday when he tweeted out that he was instructing Republican negotiators to walk away from the table as Congress continues to try to agree on a second, massive pandemic bill, designed to help save millions of businesses and families across the country. Defying Republican talking points, which for weeks was to blame Democrats for not wanting to pass a bill, Trump's heavy-handed move not only secured economic misery for so many, it also shined a spotlight on the increasingly frenzied and irrational attempt to confirm a new Supreme Court Justice before Election Day. But the press on Tuesday mostly missed that story.  
Trump's mini-Twitter tantrum about the Covid-19 relief bill instantly tanked the financial markets, with the Dow Jones index plummeting more than 400 points within a matter of minutes. Journalists expressed astonishment at Trump's announcement, noting the obvious political downside to telling voters during an economic crisis that he specifically did not want to help them pay their bills. Then again, Trump's a madman, and being shocked by his irrational behavior has taken up far too much of the media's time over the last four years.
Keep in mind that just three days ago Trump tweeted from Walter Reed National Military Medical Center, "OUR GREAT USA WANTS & NEEDS STIMULUS. WORK TOGETHER AND GET IT DONE." As is so often the case, none of this makes sense, in terms of denying economic comfort to millions of Americans.
What does make sense though, is Trump clearing the decks in the Senate so he can get Amy Coney Barrett confirmed to the Supreme Court to create a legal backdrop for him if he loses on Election Day. It's become a complete obsession for Trump and the GOP, even as the White House becomes a Covid-19 hot spot.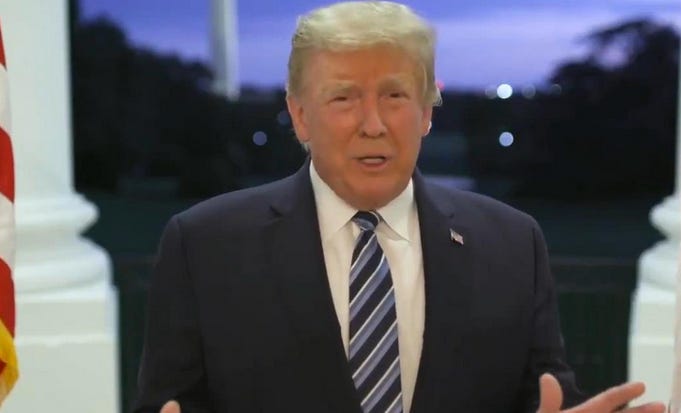 As blogger Marcy Wheeler noted on Twitter, "If we had a competent press, the President making it clear he was refusing an aid package Democrats have had waiting since May to jam through a radical judge associated with the country's biggest COVID outbreak, this would seal Trump's loss." And that's the story the press is missing — the Barrett story.
Even though Trump explicitly mentioned on Twitter that he was ending Covid relief negotiations so Republicans could focus on the radical confirmation of Barrett — even though Trump loudly announced that landing a Supreme Court nominee was more important than the economic welfare of tens of millions of Americans — most of the news coverage downplayed or ignored that angle.
In its 1,000-word article about Trump's announcement, the Associated Press mentioned Barrett just one time. The same was true with Reuters, the Wall Street Journal, and other news outlets, which dramatically watered down the role of Barrett's confirmation in Trump's stunning decision to walk away from the Covid relief bill.
"McConnell is moving forward swiftly with Barrett's nomination, trying to get her confirmed before the election," the Post reported on Tuesday, wildly sugarcoating what's actually taking place: Amidst a pandemic virus outbreak within the GOP and within the White House, radical Republicans are trying, in unheard of fashion, to jam through a bitterly contested Supreme Court nominee days before an election, where the incumbent is trailing badly in the polls. This, after the same Republican Party loudly declared in 2016 that election-year confirmations should never be allowed. Nothing like this has ever been attempted in the nearly 250 years of our republic.
As Wheeler notes, it was a Rose Garden event thrown for Barrett that triggered the current White House crisis, as more aides continue to test positive. Yet the Judiciary Committee, with two GOP members having tested positive for the virus, is running forward with confirmation hearings next week against the backdrop of an unprecedented Beltway health crisis. The virus has now infected the president, the first lady, the White House press secretary, four of her aides, the president's campaign manager, his body man, the GOP party chairwoman, senior advisors Hope Hicks and Stephen Miller, and former advisor Kellyanne Conway. At the Post though, it's merely Republicans "moving swiftly" with a nomination. It's not. This represents an un-democratic brand of hardball on steroids.
As for the Covid relief bill, media coverage has bedeviled the press for the most of the year, as news outlets have routinely embraced GOP spin in their coverage. First it was that Democrats tried to "block" the first stimulus package, which eventually offered  $1,200 stimulus checks, supplemental $600 unemployment benefits each week, and aid to small businesses that boosted household incomes and enabled many low-income Americans to pay bills. Democrats weren't blocking the bill. They were making it better by increasing funds for extending unemployment, and getting more money and aid for hospitals and healthcare workers, as well as for destabilized states and localities.
Then this summer it was that "Congress" was to blame when the $600 stimulus checks were halted at the end of July. Not true. An accurate headline at that time would have read, "Republicans Refuse to Extend $600 Unemployment Benefit as Economic Crisis Worsens." But we never saw those headlines.
Today, monthly job gains in the U.S. have dramatically slowed, while household income fell at the end of summer. Economists insist another massive stimulus bill is needed to save the economy. Hours before Trump's tweets on Tuesday, Federal Reserve Chairman Jerome Powell warned that failing to pass a new relief bill would prove "tragic" for the country.
For Trump, that doesn't matter. Only getting another ally on the Supreme Court matters. And that's a story the press shouldn't overlook.
GOOD STUFF:
Speaking of Covid relief, here's a telling piece from CNN: "Goldman Sachs: A Democratic sweep would mean faster economic recovery":
Goldman Sachs wrote that a blue wave would "sharply raise the probability" of a fiscal stimulus package of at least $2 trillion shortly after the January 20 inauguration. The bank also cited Biden's longer-term spending plans on infrastructure, climate, health care and education.

Taken together, this spending "would at least match the likely longer-term tax increases on corporations and upper-income earnings," Goldman Sachs wrote.

"It would likely result in substantially easier US fiscal policy, a reduced risk of renewed trade escalation, and a firmer global growth outlook," the report said.
FUN STUFF — BECAUSE WE ALL NEED A BREAK:
The Pixies, "Hear Me Out"
Fun fact: A million years ago in college I saw the Pixies with 80 other people in the basement of Sheehan's in Northampton, Mass. I interviewed guitarist Joey Santiago before the show for a campus newspaper article I wrote on the promising new band from Boston, whose first EP had just come out.
I love their new single, it rips, in that distinctly Pixies way.