Discover more from PRESS RUN
Fearless media commentary
Over 56,000 subscribers
Three months ago, I launched this newsletter because I thought there was an appetite for a proudly progressive dissection of the political press in the age of Trump, and the response has been overwhelming. Both in terms of the number of people who have signed up, and the community engagement. I'm extremely grateful to everyone who reads PRESS RUN.
I'm in this for the long haul and PRESS RUN will hopefully be my job for many years to come, as the community expands and we tackle pressing media issues together. And that's why I want to now offer people a chance to support PRESS RUN — to support its mission, to support the voice, and to support this work by clicking the "Support" button, even if you currently receive the email. All for the cost of a premium cup of coffee — $6 a month. I'm offering a deep annual discount, as well as the option to become a Founding Member for those who want to give more. Also, a free sign-up option still exists when you click "Support."
Today, independent journalism and independent voices are best served by reader support, especially with Facebook and Google vacuuming up the vast majority of online advertising dollars. Your backing ensures my independence and editorial integrity. It buys the kind of accountability journalism that is in short supply today. 
Ultimately, this newsletter is only possible because of the support of readers like you who are championing a new kind of journalism that's independent and ad-free.   
Subscribers not only assist the ongoing production of PRESS RUN, they'll also get access to additional benefits, including: 
Subscriber-only discussion threads in which I will participate 

Weekly analyses for the die-hards who want to go deep into the weeds 

Occasional personal missives where I share "what's on my mind" about developing stories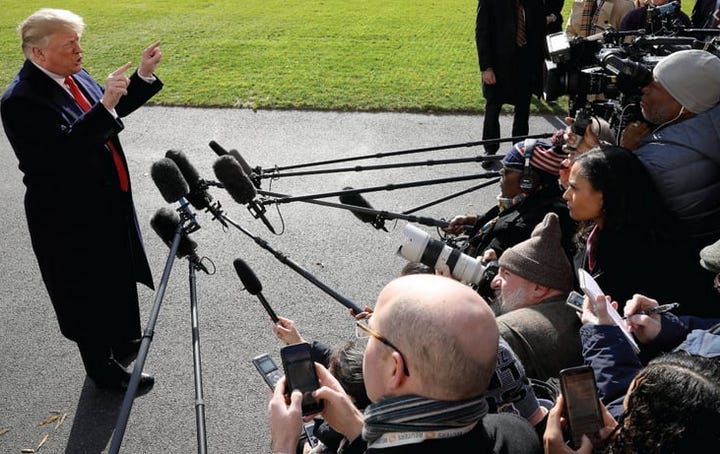 Over the years with my writing at Salon, Media Matters and Daily Kos, I've always been committed to holding news outlets accountable via original, incisive analysis, while also raising up voices of sanity.
PRESS RUN provides media analysis you're not going to see anywhere else, especially when it comes to the media's failings with Trump, including his pandemic bebacle. Nearly two months ago, long before the larger debate erupted, I urged the White House press to "unplug" Trump's misleading pandemic briefings in order to protect the health of Americans. PRESS RUN has tackled the dangerous double standards and false equivalences news outlets use when covering Trump, in their never-ending urge to normalize his radical presidency.
I've pressed journalists over and over to ask the question that haunts our pandemic crisis: Why did Trump essentially give a stand down order for the virus invasion? I've detailed how Trump's pandemic propaganda looks just like the propaganda Vladimir Putin has been practicing on the Russian press for years. The grim reality is that access journalism, or the dream of it under Trump, is eroding American democracy.
I'm thrilled at the response to PRESS RUN so far. And I hope you'll help support it to make sure our message is heard for a long time.
---
To date, the reviews for PRESS RUN have been gratifying:
"Terrific media criticism" – Jonathan Alter
"Subscribe!" — Joan Walsh, The Nation
"A must read. You'll never read or watch media the same way" — Jennifer Rubin, Washington Post
"I just subscribed" — Soledad O'Brien
"Fabulously smart, well written, and important." — Anne Lamott
"Excellent newsletter" — Eric Alterman, The Nation
"Essential" — Charles Pierce, Esquire
"It's GOOD" — Markos Moulitsas, Daily Kos
"Excellent," — Oliver Willis
"It's great and I read it religiously" — Will Bunch, Philadelphia Inquirer
"The content has been great" — Marcus Johnson
"Damn fine media criticism" — Rude Pundit
"Subscribe. I just did" — Bob Cesca