Discover more from PRESS RUN
Fearless media commentary
Over 56,000 subscribers
Thank you always for your support. Please considering subscribing to PRESS RUN for just $6 a month. These are extraordinary times and they deserve a proudly progressive voice holding the press accountable.
Ultimately, this newsletter is only possible because of the support of readers like you who are backing a new kind of independent journalism.
Stay healthy.
Be kind.
---
Supreme Court Justice Brett Kavanaugh proved himself to be a liar, again, on Monday. Given his first opportunity as a Justice to address choice, he moved to overturn landmark abortion laws in the America, after sitting through his 2018 confirmation repeatedly claiming that he considered current abortion rights to be the "settled law" of the land. Voting in the minority this week, Kavanaugh ruled in favor of a draconian Louisiana law that requires doctors performing abortions to have admitting privileges at nearby hospitals. The law was overturned in a 5-4 Court ruling, in part because the Supreme Court ruled four years ago against a virtually identical abortion law passed in Texas.
That the newest Justice didn't tell the truth about his views on abortion isn't surprising, since Kavanaugh lied nearly nonstop during his confirmation hearing — he shattered all precedent and falsified his way through the public process, likely perjuring himself along the way. What's distressing though, is the realization that the Beltway press wants to help the him whitewash his lying ways and present his confirmation hearing as simply a raucous bout of political jousting between Democrats and Republicans.
This was the New York Times headline on Monday: "Democrats Strategize G.O.P.-Style Hardball to Get Judges Seated." (The since-changed online headline: "Republicans play Hardball on Judges: Can Democrats Give it a Shot, Too?")  The newspaper's Both Sides message was clear —Republicans often play "hardball" when it comes to getting judges confirmed, and Democrats might soon try to do the same thing if Joe Biden is elected. The Times specifically referenced Kavanaugh as an example of the type of brass knuckle approach  Democrats might emulate.
None of this is true. In fact, it represents a rewriting of history, and a distortion of today's Democratic Party. Republicans didn't merely play rough with the Kavanaugh confirmation. They obliterated the common standards of fair play by sponsoring a nominee who lied constantly under oath.
Meanwhile, there's a not a single Democratic senator who would want to replicate that kind of dishonesty during a Justice confirmation hearing under a President Biden. But the Times narrative suggests otherwise. By casually portraying the Kavanaigh confirmation as nothing more than "hardball," the paper whitewashes how radical and disturbing it was — how authoritarian like Trump chip away at democracy by stacking the courts with puppets like Kavanaugh.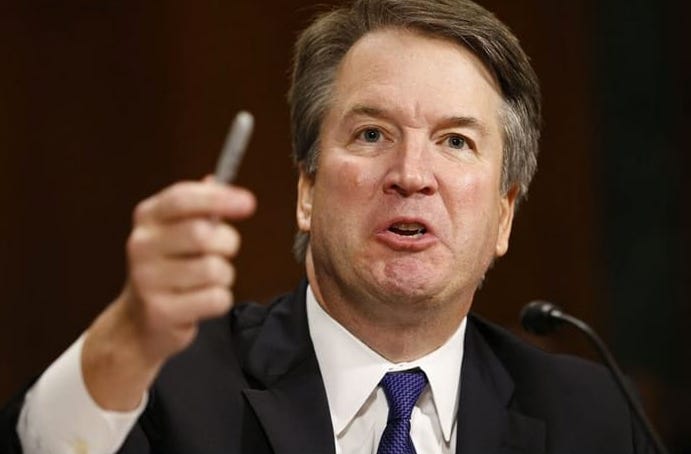 The whole Kavanaugh episode represented a dark, seminal moment in our history, and specifically for our judiciary system, as Republicans made a wholesale decision for the nominee to falsify his way through the process. And that was before allegations came up about him sexually assaulting young women when he was in high school and in college. At the time, Debra Ramirez and Christine Blasey Ford offered detailed accounts of being assaulted by Kavanaugh.
In order to secure his lifetime appointment to the Court, and facing specific, multiple and credible allegations, Kavanaugh lied about witnesses; he lied about corroboration; he lied about friendships; he lied about parties. He also lied about Maryland's drinking age, vomiting, his yearbook, his accusers, Yale, and drinking — he lied about that a lot. (Separately during his confirmation hearing Kavanaugh lied about his childhood, federal judges, warrantless wiretaps, his nomination selection, and stolen emails.) "Republicans know Brett Kavanaugh lied under oath," Armanda Marcotte wrote at Salon. "They just don't care."
Coming off the GOP's unprecedented move to block Merrick Garland's confirmation to the Supreme Court by refusing to even hold hearings on President Barack Obama's pick, Republicans doubled down for Kavanaugh, shredding any semblance of honor and fair play. In the end, they got away with, in part because the Beltway press let them. Too nervous to call Republicans out as "liars" and "radicals," the press played the story as yet another Both Sides political battle, where Democrats and Republicans squared off and it wasn't really possible to determine who was telling the truth.
Except that it was.
The fact is much of the press glossed over Kavanaugh's lying in real time. ("Kavanaugh Lies His Way Through Confirmation" was not a headline.) Committed to the premise that Republicans are mirror opposites of Democrats, they just occupy a different spot on the political spectrum, journalists for the last decade has refused to acknowledge how radical the GOP has become, and specifically under Trump how the party now revolves around ceaseless lying. None of this is normal. But the Beltway press has done its best to make it seem so.
Kavanaugh represented another instance of the press in the Trump era unwilling to break a longstanding tradition. In this instance, the tradition of not identifying a Supreme Court nominee as being a congenital liar. Remember the media narrative during the height of the Kavanaugh story when he was caught in a web of lies and angrily lashed out at his accusers during his testimony spectacle? The storyline wasn't that Kavanaugh had imploded under the glare of public scrutiny. The narrative was that his angry, unhinged testimony had rallied the GOP base.
The most recent Supreme Court nomination represented a stain on the U.S. judicial branch, and on Republicans who sponsored the charade. They don't deserve to have their ugly history gently revised by the Times.
---
📺 GOOD STUFF:
Two years ago I wrote a piece called, "Fox News Can't Save Trump From Mueller," about how Fox wouldn't be able to stem the flow of information outside the right-wing media bubble. I think that larger idea is even more apt today, as the surging pandemic continues to clobber Trump's presidency, revealing all of his incompetence and disdain for America.
Writing for The New Yorker, Susan Glasser, looks at Trump's recent withdrawal to his safe space: "Trump Retreats to His Hannity Bunker"
No wonder Trump retreated to his Hannity bunker on Thursday, to talk about the border wall and Barack Obama's "treason" and the deep state. About the "persecution" of Michael Flynn, and how much of a "disaster" his former Attorney General, Jeff Sessions, was. About the "rioters" and "terrorists" destroying America's cities in the wake of George Floyd's killing. This is a week when even Trump ought to have a hard time denying the reality of the disaster the country is facing, and his own political predicament.
🏎 FUN STUFF — BECAUSE WE ALL NEED A BREAK
Black Pumas, "Fast Car"
The psychedelic soul duo from Austin take a musical turn with their heartfelt cover of Tracy Chapman's seminal folk hit from the summer of 1989, which became a surprise pop radio/MTV smash. The Black Pumas are just the latest in a long list of esteemed acts who have paid tribute to Chapman's simple, melodic tale of personal struggle and a youthful yearning for more.
"At a festival in Austin a few years ago, the then-new soul-rock band had plowed through every number in its repertoire and had been called back for an encore. Desperate for anything to play, lead singer Eric Burton grabbed his guitar and began performing an older tune he'd learned in his youth," Rolling Stone recently reported.  "The reaction I got from the crowd was very deep," he recalls. "And it made me think, 'I can't ignore the power of this song and the way it connects with what's going on.'""
We won't have to drive too far
Just across the border and into the city
You and I can both get jobs
And finally see what it means to be living