Discover more from PRESS RUN
Fearless media commentary
Over 56,000 subscribers
This newsletter is only possible because of the support of readers like you who are backing a new kind of independent journalism. If you're enjoying PRESS RUN, please consider subscribing for $6 a month. Much thanks!
Stay healthy.
Be kind.
---
The Newspaper of Record's obsession with endlessly profiling Trump supporters, as if they represent the pinnacle of importance in American politics, lurched into parody when New York Times columnist Bret Stephens recently wrote, "Meet a Secret Trump Voter."
There are 146 million registered voters in the U.S. and the Times published an entire column about one Trump voter, and shrouded it with hush-hush anonymous nonsense. Basically, Stephens interviewed a New York City conservative who thinks Trump saved million of lives during the pandemic, Hillary Clinton was behind the Russia election interference in 2016, and who belittles the women who accused Brett Kavanaugh of sexual assault. Somehow the interview was presented as being deeply insightful about the state of America politics today, suggesting there are legions of 'hidden' Trump supporters out there.
Days later, the Times returned to its fertile Trump Supporter ground and published on its front page another one of the paper's endless updates regarding white, rural Trump voters: "Can Trump Squeeze More From His White Base in Pennsylvania and Beyond?"
Over the years, the Times has eagerly dispatched reporters to bastions of white, blue-collar Trump voters, in places like Colfax and Osseo, Wisconsin, Lordstown and Youngstown, Ohio, Harlan, Kentucky, Port Huron and Niles, Michigan, Monticello, Iowa, Mount Gilead, Ohio, Covington, La., , Ringgold, Ga., and Olyphant, Pa.
There's nothing wrong with the daily casting a wide net to get the temperature of voters. But that's not what's been happening. The Times' voter coverage has been completely obsessed with one portion — white, and usually rural Trump voters who adore the president.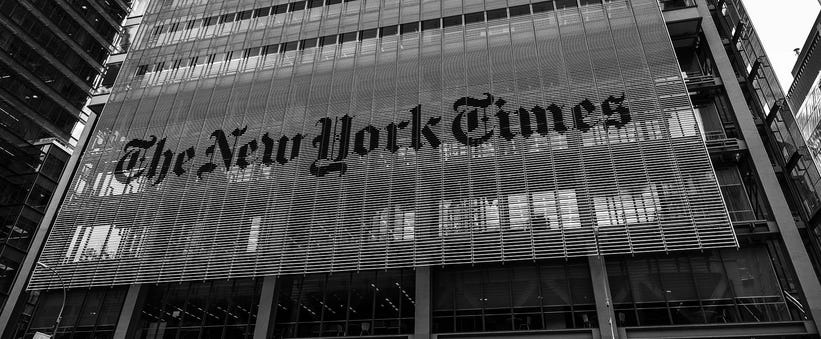 Ever since Election Day, when lots of news executives discovered they had missed Trump's upset victory, the Times has stood out for its desire to relentlessly focus on his most ardent admirers:
• "The Obama-Trump Voters Are Real. Here's What They Think"
• "Why 5 Trump Voters Are Going to the Inauguration"
• "Trump Voters, One Year Later"
• "Stop Shaming Trump Supporters"
• "How Trump Voters View His Position on Pre-existing Conditions"
• "Are There Really Hidden Trump Voters?"
• "Why Trump Voters Stick With Him"
• "How Trump Voters Feel About His Refusal to Commit to Transferring Power"
• "Trump Backers Like His First Draft of a New America"
• "'What's the Big Deal?' Ask Trump Voters on Russia Hacking Report"
• "Trump's Fights Are Their Fights. They Have His Back Unapologetically"
Showering them with attention, the daily has gone out of its way to give them a platform to express their unyielding support for the most consistently unpopular president in American history. Trump supporters who live in deeply blue states? The Times covered that niche, too. And a Trump supporter who had nice things to say about Nazis? Yep, the Times lovingly profiled him.
For years, the Trump voter beat seemed designed to provide a respite from all of the bad-news-for-Trump coverage. The soft profiles were a way for the supposedly liberal and "biased" Times to signal to conservatives that the paper was willing to present their best side.
The entire, 'Trump Supporters Support Trump' genre of coverage represents a bizarre press phenomenon. For four years, the Times' white voter obsession (see here, here, here, here,  here, here, and here) has stood out as a baffling, absurd, and unprecedented form of political journalism.
During Trump's first 100 days in office, the Times published more than 130 articles in its news and opinion sections that mentioned Trump supporters or Trump voters, according to Nexis. By contrast, during President Barack Obama's first 100 days in office, the Times published just seven articles in the news and opinion sections that mentioned Obama supporters or Obama voters.
In the process of getting constant updates from Trump fans, the Times often lets them push unfounded allegations and wild conspiratorial claims.
Trump voter in Ohio: "I'm tired of [immigrants] being here illegally and cutthroating the rest of us."
That claim is false.
Trump voter in Iowa: "My view is [Obama] purposely got into the presidency so he could ruin America."
That claim is absurd.
What's strange about the Times' borderline glorification of rural white voters is that a majority of them haven't voted Democratic in at least half a century. That means they aren't swing voters, which are typically the voters that most interest journalists, since they're the ones who can tip an election.
Polls suggest Trump is trailing badly in his re-election run. That means the Times may have just three more weeks to squeeze in more Trump Voter dispatches.
GOOD STUFF:
🏡 Greg Olear, who writes the excellent newsletter, PREVAIL, recently published a deep dive into a pressing Supreme Court question, "How Did the Kavanaughs Afford Their $1,225,000 Home?":
Not only did the Kavanaughs buy a home well beyond what they could conceivably afford, but they bought an older home that was apparently a money pit. Why would any bank with a functional abacus approve such a terrible loan? And why would Brett and Ashley Kavanaugh agree to it?

Within a year of buying the house, the family was deep in credit card debt. By the end of 2006, the Kavanaughs had three credit cards, in addition to the TSP loan. Each loan was "Code K," which specifies a range between $15,001 and $50,000.
🎙 FUN STUFF — BECAUSE WE ALL NEED A BREAK
Frank Sinatra, "One For My Baby"
I usually highlight new music in this space, but I was recently reminded not only of this American standard, but of this Sinatra TV performance, and how perfect it is. The closing-time song is iconic in part because it brings together three giants of American music from the 20th century: Sinatra, along with songwriters Johnny Mercer and Harold Arlen.
The genius of the finished product is the simplicity — a far-off piano and Sinatra's signature voice, as we hear his conversation with a late-night bartender, lamenting another love lost. The TV performance is so mesmerizing because Sinatra acts out the song, in character, and delivers a stunning four-minute performance worthy of any Broadway ace.
I've got the routine,
Put another nickel in the machine.
I'm feeling so bad,
Won't you make the music easy and sad.