Discover more from PRESS RUN
Fearless media commentary
Over 56,000 subscribers
TV networks air Trump 10 hours a week — in 2014 they refused to air Obama for 10 minutes
Different rules for Democrats
The response to PRESS RUN has been overwhelming in recent months, both in terms of the number of people who have signed up, and the community engagement. I'm extremely grateful to everyone who reads and who supports fearless, progressive media commentary.  
I'm in this for the long haul and PRESS RUN will hopefully be my job for many years to come, as the community expands and we tackle pressing media issues together. And that's why I want to now offer people a chance to support PRESS RUN— to support its mission, to support the voice, and to support this work by clicking the "Support" button, even if you currently receive the email. All for the cost of a premium cup of coffee — $6 a month.
Today, independent journalism and independent voices often requires reader support, especially with Facebook and Google vacuuming up the vast majority of online advertising dollars.
Ultimately, this newsletter is only possible because of the support of readers like you who are supporting a new kind of journalism that's independent and ad-free.   
---
Trump's daily marathon press briefings on the coronavirus pandemic have now become unearned staples of the television landscape, as both cable news outlets as well as ABC, CBS, and NBC shower the propaganda events with time and attention. Treating the events as breaking news updates, the briefings, where Trump lies and chats casually about a national health crisis, represent a Beltway news culture gripped by paralysis, unable to make the correct decision to unplug the misinformation happenings.
These are same TV networks that made a very different decision in 2014 when President Barack Obama wanted to address to nation for 10-15 minutes about immigration reform, and ABC, CBS, and NBC all told him they would not air his Oval Office speech because it wasn't worth covering. That followed up the networks' decision a year earlier to deny the Obama request to carry a primetime address regarding the seven million people who had signed up for healthcare under the Affordable Care Act.
The endless Trump coverage today, often featuring two-hour briefings each day, is all being done voluntarily. TV networks in the United States are under no obligation to carry the president live when he makes appearances or addresses the press. Specifically for primetime, the White House typically lets the networks know the president wants to address the nation and then the networks inform the White House whether they'll be willing to carry the address, which they almost always do. It's true, the pandemic briefings usually don't air in primetime so the protocol is different. But the networks, and the cable news channels, could absolutely not broadcast the briefings live, and that in no way would that be unusual.
Considering the briefings are absurdly long, short on news, heavy on attitude, and drowning in misinformation, it's actually the right call to stop airing them and simply provide news consumers recaps, and fact checks, after the fact. "I would stop putting those briefings on live TV — not out of spite, but because it's misinformation," the MSNBC host Rachel Maddow said weeks ago.
Indeed, "The president's daily Coronavirus Task Force presentations have morphed into a beast that bears no resemblance to the informative crisis briefings they were originally intended to be," the St. Louis Post-Dispatch noted in an editorial, where the paper urged the briefings not be aired live.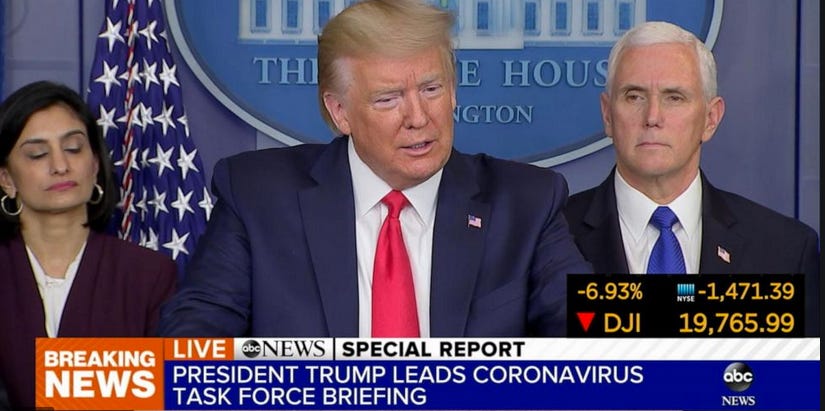 KUOW, an NPR station in Seattle, recently announced it would stop airing the daily briefings live, citing "a pattern of false or misleading information provided that cannot be fact checked in real time. MoveOn.org is urging activists to signs its petition directed at ABC, CBS, NBC, as well as cable news channels: "It is wrong and dangerous to provide so much unfettered airtime to someone who is happily, shamelessly spreading terrible, damaging misinformation that is already costing fellow Americans their lives."
Keep in mind that on the network weekday coverage, the briefings are often accompanied with the "Special Report" tag, to let viewers know just how important Trump's utterances are, as the network briefings reach millions each day. How convenient for a president up for re-election who cannot hold political rallies due to the pandemic.
Last Monday, MSNBC did cut away from Trump's briefing, but after the channel had already aired it for more than hour-and-a-half. Later in the week, when Trump used a pandemic briefing to discuss the government's War on Drugs, some outlets dipped in and out of the coverage. Last night, ABC, CBS, and NBC did not air Trump. My guess is that's because his briefing cut into their lucrative primetime lineups.
Television news ought to just say no to Trump across the board.
They didn't have any problem saying that to Obama. Back in November 2014, all three networks announced they wouldn't carry President Obama's address to the nation about his long awaited plan to take executive action to deal with the pressing issue of immigration reform. Their reason? The address would likely be too "overtly political." (Hint: They were afraid Republicans would complain.) Incredibly, in 2006, the same networks aired live from the Oval Office an address from President George W. Bush…about immigration.
Television news' compulsion today to air All Things Trump is not new. Right after Trump was inaugurated they invented the idea that all White House press briefings should carried live, because they were such big news! There was never any reason given for why, after 20 years of not airing daily press briefings, the cable news channels all decided simultaneously to essentially air every Trump White House briefing live, and usually in its entirety. Early on, the cable news channels aired 93 percent of the Trump White House press briefings live, after having aired just three percent of Obama press briefings live, according to Media Matters.
If a 10-minute address from President Obama from the Oval Office was deemed to be not newsworthy by the networks, why are they willing to air Trump live for 10 hours each week?
---
GOOD STUFF:
As the debate continues over how much television news outlets should be airing Trump's wildly irresponsible briefings live, former NBC News producer Mark Lukasiewicz recently offered up some smart suggestions, via the Columbia Journalism Review. He urges television news to "take back some control" over the debate in the Trump era in terms of what should be aired live:
Let truth-telling be a prerequisite for appearing on live TV. Repeat offenders who lie or obfuscate with abandon, no matter their position, should not be put on live again.
Read the whole thing, "Can Live TV Become Journalism Again?"
FUN STUFF — BECAUSE WE ALL NEED A BREAK
Waxahatchee "Can't Do Much"
Singer-songwriter Katie Crutchfield is a major talent, and her music project Waxahatchee continues to put out stellar music. The latest album, Saint Cloud, was just released and "Can't Do Much" has quickly become a favorite of mine. Billboard recently described Saint Cloud this way, "The result is a collection of warm, sunlit vignettes with a palpable darkness in the lyrics; pain is always lurking, threatening to overwhelm, but in the sonics, it's clear it never quite does."
Imagine if Lucinda Williams had a younger sister.
When you're missing me or what you see
Something wild that you think you'll never be
Something safe that you could tend to and lead
Something versatile to fill all your needs